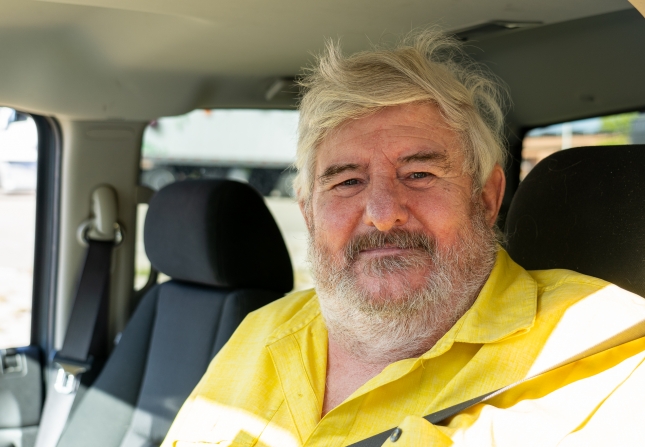 As retired Navy veteran, Richard feels safest at the VA, so it comes as a welcome relief to visit the Central Texas Food Bank's mobile pantry distribution at the VA in Temple to pick up groceries each month.
"I live off my retirement. That's why I come here," Richard says. "I make about $1,300 a month and with bills…it don't go very far. I don't see how people make it these days."
A while back, Richard tried to drive for Lyft, which felt do-able when he first started and gas was still priced at around $2.60/gallon. But with the impact of rising prices this year, he was no longer able to continue once gas exceeded $4/gallon. The cost was not manageable for a large pick-up truck, which Richard has to use due to his disability and his size. "I'm 6'2"!" Richard says. Not only does he require a large vehicle he can fit comfortably into, he requires an accessible one that also offers hand controls since he cannot use his legs to drive. Ten years ago, Richard moved back to Central Texas from his home in Port Aransas after he became injured on the job—driving cross-country for a delivery . After his injury worsened, he came home to Central Texas where his parents lived at the time, and it was his mother who bought him to the hospital at the Temple VA. By then, he was in pretty rough shape. "The doc came out, took one look at me, and says, 'Bring him in, we'll do the paperwork later,'" Richard recalls. That night, hospital staff had to perform an amputation on one of his legs and two weeks later, after failed attempts to save his other foot, they performed a partial amputation on his other leg. "I was almost a year and a half in the hospital here."
After finally getting an all clear from the hospital, he was forced to retire since his two businesses in Port Aransas weren't able to survive his extended absence. He sold his property there and moved back to Central Texas permanently to be close to his parents.
"I really thank God for these people," Richard says of the Food Bank staff and volunteers. "At one time—actually I'm back to that now—I had to choose between eating and getting my medication. I'm able to come here and I'm able to afford both."
After retiring from nearly 20 years of service in 1995 and recovering from his injury ten years ago, Richard enjoys a peaceful life in the country with no regrets. "I've enjoyed my life," Richard says with a smile. "I don't have a bucket list because I've already done it all. I've been to 37 different countries. That's not bad!" He lists Thailand and Australia as just a couple of his favorites.
We thank Richard for his dedicated years of service to our country. If you want to help give back to neighbors like Richard, please visit our Donate page or learn more about how you can take action to end hunger today here.