Shopping
Agencies can search for food items, view item details, submit orders and review the status of orders through Agency Express. All shoppers must click "save" before continuing onto another shopping page, and click "submit cart" when done shopping.  
Ordering Procedures
Contact your Relationship Manager to request an alternate pick-up date/time at the Food Bank. Alternate pick-up appointments are subject to availability.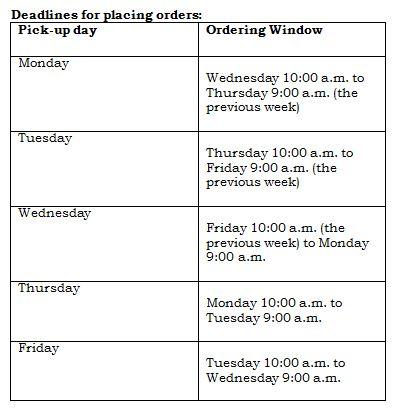 Agency orders MUST be received by 9:00 A.M. two business days before the order is to be picked up at the Food Bank or at a regional delivery site.
Warehouse & Dock Regulations
Sign in before picking up your order, and sign out after receiving your order
Arrive no earlier than 20 minutes before your scheduled pick-up
Only 3 people per partner agency permitted
Smoking and chewing tobacco is prohibited
Food and drinks are prohibited
Electronic devices are prohibited
Only individuals 18 or older are permitted
Jumping on/off the dock is prohibited. Use side ramp or stairs to get on the dock
Partner Agencies operating warehouse equipment is prohibited
Acknowledge special notices posted in and around the warehouse
Notify the warehouse staff of any irregularities or potentially hazardous conditions (spills, etc.)
Warehouse hours are subject to change at the discretion of the Food Bank
Closed-toe shoes required (no sandals or flip flops allowed)
Shop-For Guidelines
The above warehouse & dock regulations also apply to the shop-for area
The Shop-for area of the food bank includes fresh produce, dairy, and bread and is limited to 30 minutes
Partner agencies are able to take advantage of Shop-for at the Food Bank during regularly scheduled appointments or may schedule additional appointments by calling the Agency Relations Hotline at (512) 684-2503.
Shop-for items must be boxed separately by category and weighed by Food Bank warehouse staff
If your agency is located near Temple or Waco, check out the Fresh Produce Containers page to gain similar access to free produce in your area!