Donate Funds Your Way
We make it easy to fight hunger in your community in whatever way you prefer. Read below to see the different ways to donate funds, and for more information on donating food.
Donate Funds
Donate online with a one-time gift, a sustaining gift or a gift in honor or memory of a loved one using a credit card or PayPal account.
Donate by phone by calling us at 512-220-2680. We are available to take your call Monday- Friday 8:00 a.m. - 5:00 p.m. We accept Visa, MasterCard, American Express and Discover.
Donate by mail by making your check payable to Central Texas Food Bank and sending it to:
Central Texas Food Bank
6500 Metropolis Drive.
Austin, TX 78744
Sustaining gifts are monthly donations to the Food Bank by members of the Sustainers Circle - a special group of 1,000+ donors who give on a monthly basis. To join the Sustainers Circle, set up a monthly gift here. Questions? Click here.
Planned giving is a wonderful way to make hunger relief part of your lasting legacy and nourish lives in Central Texas for generations to come. For more information, review our Planned Giving Flyer and call our donor hotline at (512) 220-2680 to talk with us about your plans and options.
Donating appreciated stocks or bonds directly to the Food Bank will maximize your impact on hunger - and may provide you with significant tax savings. Download our Securities Donation Form for more information about making a gift this way.
Donate bitcoin to have even more of your donation directly support the programs that help Central Texans access healthy food. With bitcoin donations we don't pay for transaction fees and our donation is deposited in our Food Bank account in the USD equivalent. Our bitcoin deposit address is 1ARxKuBArW8XzJQNGoRC5RZBVqhb4Tx5yx
Matching gifts can double and even triple your impact. Search our database to learn if your employer matches your donations and/or volunteer hours.
Donor-Advised Funds
are often administered by a financial services company or a community foundation and allow you to combine the most favorable tax benefits with the flexibility to easily support the Food Bank.
If you need more information on the different ways you can donate funds, please contact our Development Department, at contribute@centraltexasfoodbank.org or (512) 220-2680.
Donating goods or services (also known as donations in-kind) is another way to benefit Central Texans and ensure that our Food Bank operations are running smoothly.
Donate Food
Food and Grocery Industry Donations
We help retailers, manufacturers, corporations and farmers safely donate their excess and unsaleable grocery products. Learn more. If you are a food and grocery industry donor, contact us to pick up your donation or schedule a delivery time.
Food Donations
Whether you're clearing canned goods out of your kitchen pantry, or your business has pallets of fresh produce, we welcome healthy food donations of any quantity anytime.
Drop Off Food Donations at the New Central Texas Food Bank Facility
For food donations and Partner Agency pick-up, please use the Burleson entrance. All visitors and volunteers, please use the Metropolis entrance.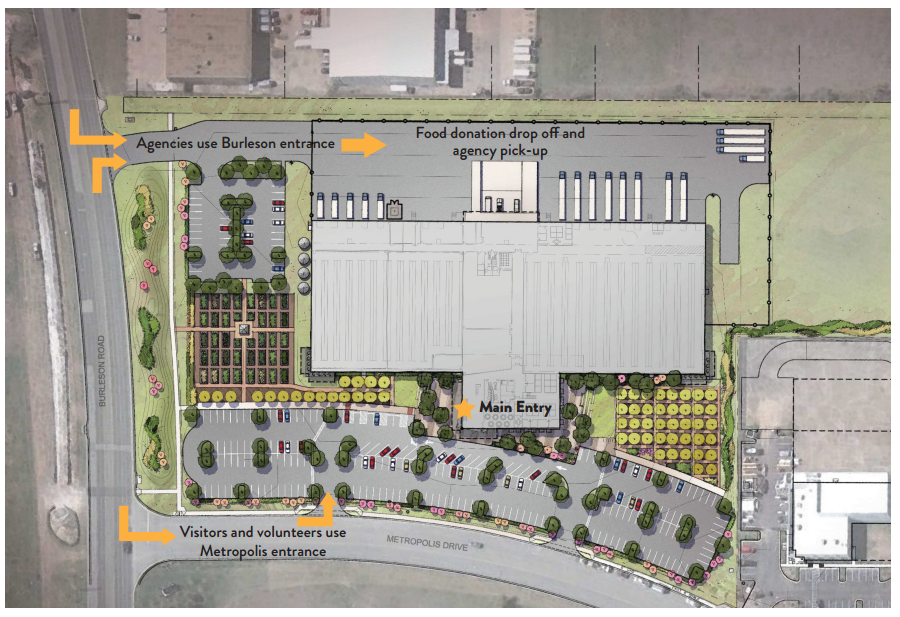 Where to donate food
Food donations can be brought to the Central Texas Food Bank. If you are unable to bring donations to our facilities, click here to find a Partner Agency near you who may be able to receive it.
Click here to download the Food Drive Map and receipt
Interested in becoming a donation drop off location? Reach out to fooddrive@centraltexasfoodbank.org.
What items do clients request most?
peanut butter
canned chicken breast or tuna
canned low sodium vegetables
canned fruit in its own juice (no sugar added)
dry pinto beans
brown rice
non-fat dry milk powder
100% whole grain cereal
Because our clients' well-being is our first priority, we can only give out food that is safe and healthy. To ensure your gift goes to a family in need, please be sure to give.
healthy, non-perishable food
items with intact, un-opened, consumer or commercial packaging
items with non-breakable packaging (no glass please)
food within the expiration date on the packaging
Hunters for the Hungry
Do you have a buck or some doe to spare? Through Hunters for the Hungry, you can donate legally tagged, field-dressed deer to families facing hunger. Learn about the program and upcoming hunting season.