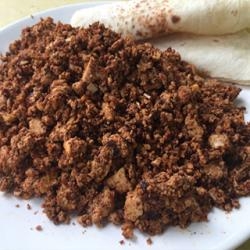 Ingredients
One 1-pound block extra firm-tofu
2 tablespoons apple cider vinegar
2 tablespoons of water
4 large cloves garlic, minced
1 dried ancho or negro chile pepper, 2 for extra spice
1 tablespoon chili powder
1 teaspoon kosher salt
1 teaspoon ground pepper
1 teaspoon dried oregano
1 teaspoon ground cumin
1 teaspoon ground coriander
1/8 teaspoon ground cloves
1 tablespoon olive oil
PREPARATION
Cut the tofu into 8 slabs and lay them in a single layer on top of paper towels. Cover with another layer of paper towels. Use your palms to press down hard on the tofu to extract as much moisture as possible. (Don't worry if tofu breaks or crumbles.) Optional: Cover the tofu with a towel and put something heavy on top for 5-10 minutes to extract as much moisture as possible. 
In a medium bowl, tear the tofu into small pieces. Stir in the vinegar, water, and minced garlic.
Cut open the chilies; discard the stems and seeds. Cut the chilies into ½-inch pieces and place them in a food processor or a blender along with the chili powder, salt, pepper, oregano, cumin, coriander and cloves. Blend until finely ground.
Stir the spice mixture into the tofu until well incorporated.
Heat a large (dry) skillet over medium heat; pour in the olive oil. Once it shimmers, stir in the tofu chorizo and cook, stirring, until the mixture darkens, about 5-10 minutes.
NUTRITIONAL INFORMATION PER SERVING
Calories 120, Total Fat 7g, Carbohydrates 3g, Fiber 7g, Protein 8g, Sodium 390mg, Cholesterol 0mg.
SOURCE (OR ADAPTED FROM)
Adapted from: www.washingtonpost.com/recipes
Recipe modified by CHOICES Nutrition Education Program
Download the Recipe/Descargue la receta: