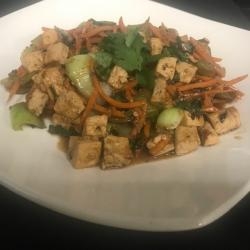 Ingredients
4 tablespoons low-sodium soy sauce
1-tablespoon sugar
1 teaspoon toasted sesame oil
8 tablespoons low-sodium chicken broth
2 teaspoons cornstarch
1 tablespoon grated fresh ginger
14 ounces extra-firm tofu (or firm)
1 tablespoon grated fresh ginger
3 scallions, white parts minced and green parts cut into 1/4-inch lengths
5 teaspoons sesame oil or vegetable oil
1 pound bok choy, stems and leaves separated, stems trimmed and cut 1 inch thick, leaves torn in large pieces
2 carrots, peeled and cut into 2-inch matchsticks
3 garlic cloves, minced (about 1 tbsp.)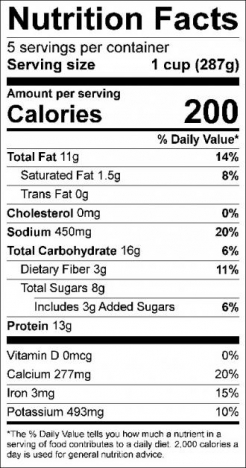 PREPARATION
1. Ginger Sauce: Combine all the ingredients in a bowl and set aside.
2. Stir-Fry: Place tofu in a pie plate and set a heavy plate on top of it. Weight the plate with 2-28oz cans and let drain for 15 to 25 minutes. Cut drained tofu into ½-inch cubes.
3. Toss tofu with 4 tbsp. of the ginger sauce in a medium bowl. In a separate, small bowl, combine the garlic, ginger, scallion whites, and 2 teaspoons of the oil.
4. Heat 1-teaspoon oil in a 12-inch nonstick skillet over high heat until just smoking. Add the tofu and cook, stirring occasionally, until lightly browned, 4 to 6 minutes. Transfer the tofu to a clean bowl.
5. Add 1-teaspoon oil to the pan and return to high heat until shimmering. Add bok choy stems and cook until crisp-tender, about 3 minutes. Transfer stems to a clean bowl. Add 1-teaspoon oil and the carrots to the pan and cook until crisp tender, about 2 minutes. Return the bok choy stems and leaves to the pan, and toss until the leaves begin to wilt, about 30 seconds.
6. Clear the center of the pan and add the garlic mixture. Cook, mashing the garlic mixture into the pan with the back of a spatula, until fragrant, about 45 seconds. Stir the garlic mixture into the vegetables. Add the scallion greens, tofu, and toss to combine. Whisk the ginger sauce to recombine, then add it to the pan and bring to a simmer. Remove pan from heat and toss until all the ingredients are well coated with sauce and sizzling hot. Serve immediately.
ADAPTED FROM
Cook's Illustrated.com - Recipe modified by CHOICES Nutrition Education Program
Download the Recipe/Descargue la receta: