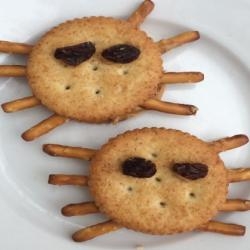 Ingredients
4 whole wheat crackers
1 tablespoon peanut butter
4 raisins
8 pretzel sticks
PREPARATION
Spread ½ tablespoon peanut butter on two crackers.  
Break the pretzel sticks into 16 halves.
Insert 8 pretzel stick halves into peanut butter layer on two of the crackers for the spider's legs.
Cover with the second cracker for the spider's body.
Dip the raisins in a little bit of peanut butter and stick two raisins to the top of each sandwich for the eyes.
Optional: You can use cream cheese, almond butter, or another spread in place of the peanut butter.
SOURCE
Kraftrecipes.com
Recipe modified by CHOICES Nutrition Education Program
Download the Recipe/Descargue la receta: