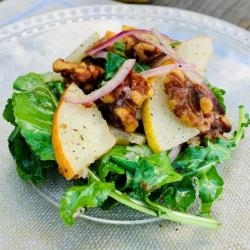 Ingredients
8 cups baby arugula
¼ red onion sliced thin
1 cup walnuts, toasted
2 kieffer pears, cored & diced
1 shallot, minced
¼ cup olive oil
2 tablespoons white wine vinegar
1 teaspoon honey
1 teaspoon Dijon mustard
1 teaspoon salt
1 teaspoon pepper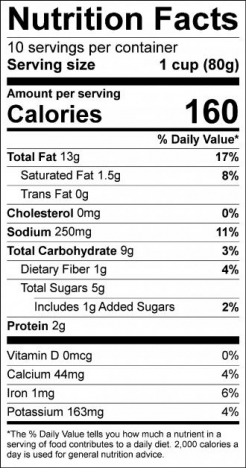 PREPARATION
1. Preheat oven to 350°F.  Place walnuts on a baking sheet and toast in the oven for 10 minutes or until golden brown and fragrant.
2. Combine honey, Dijon mustard, white wine vinegar, minced shallot, salt and pepper in a medium bowl. 
3. While whisking, slowly drizzle olive oil into the bowl to make a vinaigrette.
4. In a large bowl, mix together baby arugula, sliced red onion, toasted walnuts, sliced pear and vinaigrette.  Serve and enjoy.
SOURCE
myrecipes.com
Recipe modified by CHOICES Nutrition Education Program
Download the Recipe/Descargue la receta: