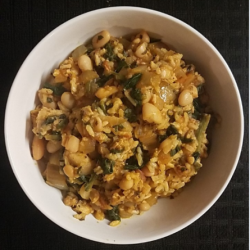 Ingredients
2 tablespoons olive oil
4 cloves garlic
1 teaspoon each oregano & basil, dried
½ teaspoon each thyme & rosemary, dried
¼ teaspoon red pepper flakes
1 teaspoon brown sugar
Black Pepper to taste
1 cup spaghetti sauce
1 small yellow onion
1 can great northern beans, drained & rinsed
1 can chunk light tuna, drained
1 cup uncooked long grain brown rice
½ pound frozen, chopped spinach
2 cups water or broth of choice (or add bouillon to water)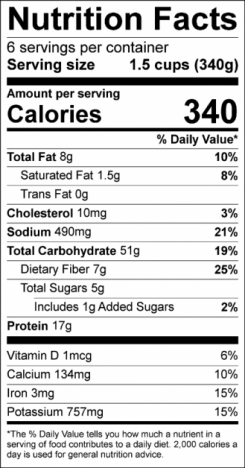 PREPARATION
Place spinach in a bowl to thaw. Dice the onion and mince the garlic.
Heat olive oil in a pot over medium-low heat. Add garlic, oregano, basil, thyme, rosemary, red pepper, and some black pepper. Sauté for one minute.
Add spaghetti sauce and brown sugar and sauté for 2-3 minutes. Add the onion and sauté until translucent.
Add the water/broth, stir to combine, then add the uncooked rice and cover with lid. Bring to a boil over medium-high heat, then turn heat down to low and simmer for 20 minutes. Meanwhile, drain and rinse the beans and drain the tuna.
Add the beans, spinach, and tuna. Cover and simmer 20 minutes or until rice is tender.
Fluff the contents with a fork. Serve immediately.
SERVING SUGGESTIONS
Enjoy this recipe served up in a bowl with a side salad and refreshing unsweet iced tea for a hearty lunch or dinner.
Consider placing the entire pot or skillet on a pot warmer in the center of your table to enjoy family style with others!
Recipe contents may also be made into a unique and tasty taco for an on the go meal.
SOURCE
budgetbytes.com; image by budgetbytes.com. Recipe modified by CHOICES Nutrition Education Program