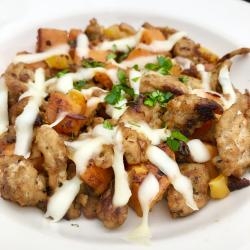 Ingredients
2 tablespoon extra-virgin olive oil
1 pound free range extra-lean ground turkey
2 cloves garlic, minced
½ cup onions, diced
1 yellow pepper, diced
1.5 cups of sweet potato (medium size)
¼ tsp salt
¼ teaspoon freshly ground black pepper
½ teaspoon red chili flakes
½ cup shredded mozzarella cheese, low fat
Fresh parsley for garnishing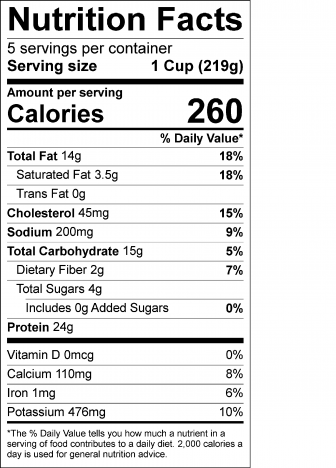 PREPARATION
In a large skillet, heat olive oil over medium-high heat.
Add ground turkey and garlic, breaking up the turkey while it cooks. Stir occasionally and cook for about 5 minutes.
Add onions and yellow peppers and cook until onions are soft, about 5-7 minutes.
Add the sweet potato, chili pepper, salt and pepper and stir well.
Cover the skillet and cook until potatoes are tender, stirring occasionally. If necessary, add a little bit of water to cook the sweet potato faster.
When the sweet potato is tender, add shredded mozzarella cheese and garnish with parsley.
SOURCE
primaverakitchen.com
Recipe modified by CHOICES Nutrition Education Program
Download the Recipe/Descargue la receta: