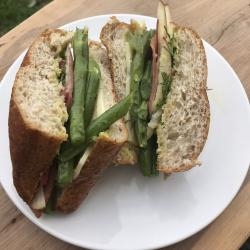 Ingredients
1 pound fresh green beans, trimmed
2 teaspoons olive oil
¼ teaspoons freshly ground black pepper
6 thick turkey bacon slices
½ cup torn fresh dill
½ cup olive oil
1 teaspoon firmly packed lemon zest
2 teaspoons Dijon mustard
1 small shallot, minced
4 tablespoons fresh lemon juice, divided
1 medium Red Delicious apple
6 whole wheat French breads or bolillos, cut in half horizontally
6 thinly sliced Parmigiano-Reggiano cheese
Wax paper
PREPARATION
Preheat oven to 425° F. Toss green beans with 2 tsp. olive oil and pepper. Place beans in a single layer in a pan and bake 10 minutes. Remove and chill 10 minutes.
Arrange bacon in a single layer in a pan. Bake at 425° F for 12 minutes or until crisp. Drain on paper towels.
Whisk together dill, olive oil, lemon zest, Dijon mustard, and 3 Tbsp. lemon juice. Let stand 5 minutes.
Cut apple into thin slices and toss with remaining 1 Tbsp. lemon juice.
Spoon vinaigrette onto top halves of bread. Layer beans, bacon, apple, and cheese on bottom halves. Cover with top halves of baguettes; wrap tightly in wax paper. Chill up to 2 hours. Slice sandwiches before serving.
ADAPTED FROM
myrecipes.com
Recipe modified by CHOICES Nutrition Education Program
Download the Recipe/Descargue la receta: