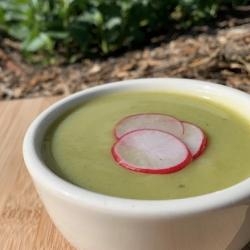 Ingredients
4 chayote squash, peeled and chopped
1 medium onion, chopped
3 cloves garlic, minced
6 cups vegetable broth, reduced sodium
2 cups water
2 poblano peppers, roasted, peeled and chopped
1 jalapeno pepper, roasted, peeled and chopped
1 serrano pepper, roasted, peeled and chopped
1 russet potato, peeled and chopped
Toppings
cilantro leaves
1 lime, juiced
1 teaspoon salt
1 teaspoon pepper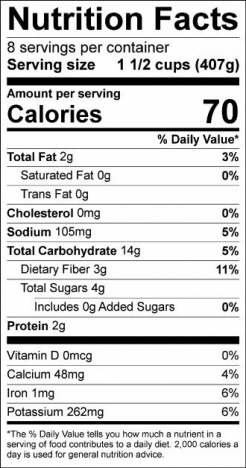 PREPARATION
 Heat olive oil on medium heat in a large pot.  Add onion and garlic and cook for 5 minutes until onions become translucent.
 Add chayote squash and potato and cook for another 5-10 minutes.  Add roasted peppers, ½ cup cilantro, water and vegetable broth.  Bring to a boil.
 Once potatoes and squash are soft enough to pierce with a fork, remove from heat, add remaining ½ cup of cilantro, lime juice and puree with a blender.
 Garnish with sliced radishes, cilantro and feta or cotija cheese.
ADAPTED FROM
https://www.yummly.com/recipe/Chayote-Chile-Soup-2709869
Recipe modified by CHOICES Nutrition Education Program
Download the Recipe/Descargue la receta: