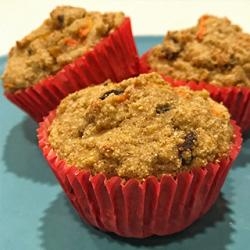 Ingredients
2 ¼ cups of farina hot wheat cereal (such as Cream of Wheat)
¼ cup Splenda® Brown Sugar Blend (or ½ cup brown sugar)*
1 tablespoon baking powder
1 teaspoon ground cinnamon
½ teaspoon salt
¼ teaspoon ground nutmeg
2 large eggs
1 cup skim milk
¼ cup plain nonfat Greek yogurt
2 carrots grated (about 1 cup)
½ cup raisins
½ cup chopped walnuts
PREPARATION
Preheat oven to 400°F. Lightly oil a 12-cup standard muffin tin, or use paper liners.
Combine cream of wheat, brown sugar, baking powder, cinnamon, salt and
nutmeg in a large bowl. Stir in eggs, milk and yogurt until moistened.
Fold in carrots, raisins and walnuts.
Evenly spoon batter into muffin pan and bake for 20 minutes or until fully cooked.  
SOURCE
http://www.creamofwheat.com/recipes/index.php?recipe=Carrot+Raisin+Muffins
Recipe modified by CHOICES Nutrition Education Program
*Nutrition Facts based on recipe using Splenda® Brown Sugar Blend
Download the Recipe/Descargue la receta: