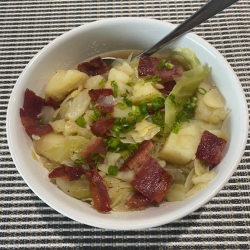 Ingredients
½ tablespoon olive oil
8 slices low sodium turkey bacon, cut into 1-inch pieces
1 ½ pounds Yukon Gold potatoes, unpeeled, cut into ½-inch pieces
1 small head green cabbage (1¼ pounds), cored and cut into 2-inch pieces
½ teaspoon pepper
¼ teaspoon red pepper flakes
4 cups low sodium chicken broth
2 bay leaves
¼ cup minced fresh chives or green onions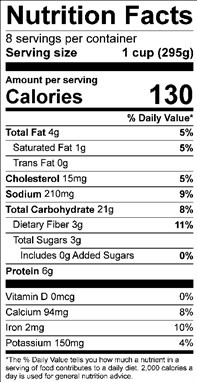 PREPARATION
Heat 5 quart pot over medium-high heat, add oil and turkey bacon and cook until crispy, 5 to 7 minutes. Transfer turkey bacon to paper towel lined plate.
Add potatoes, cabbage, ½-teaspoon pepper, and pepper flakes to the pot. Cook over medium-high heat, stirring occasionally, until cabbage begins to wilt, about 3 minutes. Stir in broth and bay leaves and bring to boil. Reduce heat to medium and cook, covered, until potatoes are tender, about 15-20 minutes.
Off heat, lightly mash few potatoes with potato masher or spoon until soup is slightly thickened (chunks of potato should remain visible). Discard bay leaves. Stir in chives or green onions and bacon. Serve.
ADAPTED FROM
Cookscountry.com
Recipe modified by CHOICES Nutrition Education Program
Download the Recipe/Descargue la receta: