Serving Size
1 quesadilla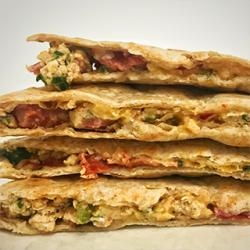 Ingredients
8 eggs
1 (14.5 oz) can no-salt-added diced tomatoes, drained
½ cup chopped cilantro
1 teaspoon ground black pepper
1 teaspoon olive oil or butter
6 (8 inch) whole wheat tortillas
6 ounces sharp cheddar cheese, grated (about 1.5 cups)
PREPARATION
1. In a medium bowl, whisk together eggs, drained tomatoes, cilantro, and pepper.
2. Heat oil in a large non-stick pan over medium heat. Pour in egg mixture. As eggs begin to set, gently pull the eggs across the pan with a spatula, forming large soft curds. 
3. Continue cooking pulling, lifting and folding eggs until thickened and no visible liquid egg remains. Transfer cooked eggs to a large mixing bowl.
4.  Wipe skillet clean and return to medium heat.
5. Place one tortilla on the pan. Sprinkle 2 tablespoons of cheese over half the surface of the tortilla. Spoon ½ cup of the egg over the area with the cheese, then sprinkle two more tablespoons cheese on top of the egg mixture. Fold tortilla over pressing together with the back of a spatula, and cook over medium heat for 1-2 minutes on each side or until cheese is melted and each side is brown.
6.  Repeat with the rest of the ingredients. Cut each quesadilla in half and serve warm with avocado and your favorite salsa.
SOURCE
readyseteat.com
Recipe modified by CHOICES Nutrition Education Program
Download the Recipe/Descargue la receta: