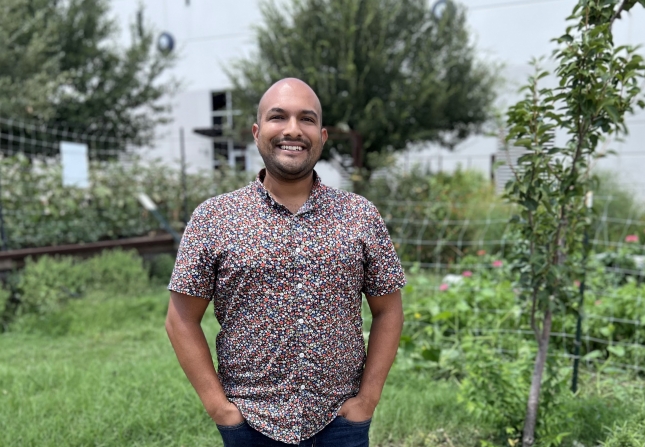 Nigel Fuentes (he/him) is a storyteller. In his role as the Food Bank's Corporate Relations Manager, he shows our corporate partners the magic behind the scenes of our work. He shares stories about programs that are lesser known, like our Culinary Training, Garden Education, and Social Services—the all-important root cause work. During tours and meetings, Nigel skillfully paints a picture to showcase the difference we make in our community. He describes the strength of our services like this: "We're the Food Bank, we have clout. We're like the Yankees almost. You might not know baseball, you might not know what strikes and outs are, but you know who the Yankees are. You know the Food Bank because you know the basic level of what we do."
Born and raised in Bakersfield, California, Nigel describes himself as "sporty with a side of nerdy." He graduated from UC Santa Barbara and started his career in motorsports and entertainment. At first, Nigel was coordinating events until his boss approached him one day and said, "This isn't working." That line would make anyone panic, but thankfully she saw Nigel's unique skills and followed it up quickly with, "We need you in sponsorships." Nigel took the new role in stride, and in 2014, he moved to Austin for a sponsorships role at the Circuit of the Americas (COTA). COTA produced legendary experiences for Nigel - from Formula 1 to X Games to headliner concerts such as Justin Timberlake and Taylor Swift.
In early 2020 Nigel applied to join Central Texas Food Bank. "My whole goal in life is to help everybody as much as I can...I want to make the world a little bit better than it was when I got here." Nigel was a bit unlucky in his first try. He interviewed with our team just a few days before the weight of the COVID-19 pandemic hit. Everything happened at once: the NBA halted their season, Tom Hanks contracted coronavirus, and the Food Bank decided to delay hiring a Corporate Relations Manager due to the state of affairs. In the meantime, Nigel went on to work for a local software company that helps organizations accurately quantify the value of partnerships and sponsorships. But he held out hope for the Food Bank role.
Finally, in late 2020, the Food Bank reopened our Corporate Relations Manager position and invited Nigel back for a casual interview. Beyond a shaved head and more work experience, not much had changed - so we hired Nigel immediately. Nigel shares that it was worth the wait: "The most fun part of this job is all the types of people I work with. Whether that's employees for the Food Bank, volunteers, or donors, the passion of the individuals I meet is heartwarming."
Nigel is the first person at the Food Bank to hold the Corporate Relations Manager role. He joined the Food Bank as a subject matter expert on sponsorship and corporate involvement in other industries and applied it to a nonprofit scope. A project he's currently working on provides an option to donate cryptocurrency to the Food Bank. Nigel's also seeing a rise in workplace giving and workplace matching and is finding new ways for the Food Bank to access donors through those avenues.
"If you have ever had an encounter with Nigel, it is quite a treat. One of the greatest feelings you will feel from your experience with Nigel is the feeling of being heard. He is so present wherever he is and in all he does. The thoughtfulness in his words and thoughts flow confidently and humbly."
- Jace Balbach, CTFB Community Engagement Coordinator
Nigel works to build a great deal of rapport and expand our corporate partnerships. He sees the future of the Food Bank as "Taking an even bigger role in the community, setting the table and bringing people in for crucial conversations." Nigel prides himself on exposing our partners to what the Food Bank accomplishes on a grand scale. He is excited to further this work by finding the right corporate partners to dive deeper into the root causes of hunger so we can end it.
Nigel is the Central Texas Food Bank's July 2022 Employee of the Month. He enjoys traveling, sports, and his mom's homemade shrimp enchiladas with green sauce.