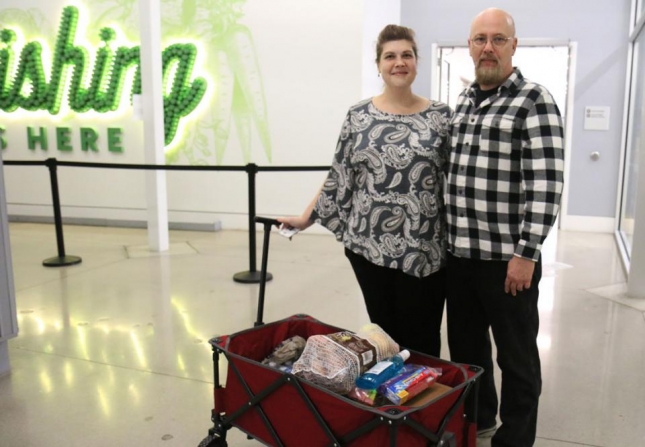 Teams from all over Austin came together Saturday for some friendly competition and to help Central Texans facing hunger.
But which team will emerge victorious with the most awesome CANstruction of 2014? You decide. Cast your vote online now. Structures are on display at Barton Creek Square Mall in Austin through Sunday, November 23.
All food used in the structures is donated to the Capital Area Food Bank to help nourish your neighbors in need. Over the past five years, CANstruction has raised over 150,000 meals for hungry Central Texans.
Thank you to all the teams, sponsors and volunteers for your creativity and commitment to ending hunger. A special thank you goes to our hosts: American Institute of Architects and Society for Design Administration, and our sponsors: Chick-Fil-A, Starbucks, Rudy's BBQ, Austin Business Furniture, HON, Bronson Dorsey Photography, CnC Photography, Been There Dump That, Move Corp, Home Depot, Austin Foundation for Architects, Austin Advanced Discovery, Simon Property Group and Build-A-Sign Giving Program.
schneiderHALLS and Roger-O'Brien Construction
Nothing says fall like an afternoon of tossing the pigskin followed by a big family meal. America's favorite game can't properly be enjoyed on an empty stomach, which is why this particular football is made of nearly 3,000 cans of food to help fill the bellies on Austin's biggest football fans. We chose tuna cans because the short height allowed us to create the gradual curves of this football. The structure measures more than 5 feet in diameter and 8 feet high while weighing over 1,300 pounds.
American Society for Civil Engineers – Austin Branch
Let's chomp down on hunger like the Hungry Hippos do. Until every hungry mouth in Austin is fed, we will continue to strive to eliminate hunger.
Structures, Anderson High School and SpawGlass Contractors Inc.
Named after Percy Pennybacker, the Pennybacker Bridge is a local landmark in the city of Austin. The arches are made up of sardine cans that have been bound in matrix to enable structural rigidity and stiffness. Beneath the bridge, the team employed blue-labeled cans to create a water feature for the model. Various green-colored vegetables cans have been used to create the topography at both sides of the bridge. This model is the result of the team understanding no gap is too great to be bridged when working together. The team members said they hope the structure serves as an inspiration to bridge gaps in the fight against hunger.
KGA Architecture, Encotech Engineering and Kiewit Building Group
Many people don't think that hunger is a big issue, but with 1 in 6 adults and 1 in 4 kids in the U.S. suffering from food insecurity, it is a significant problem. Even people who know hunger is a major concern in Central Texas sometimes feel like there is nothing they can do to help. However, everyone can volunteer their time or donate money and food to their local food banks. A simple change of perspective can make a huge impact for the hungry in our community. The team invites everyone to change their perspective on hunger with the yes/no sculpture. Take a walk around the sculpture at Barton Creek Mall to see how a no can become a yes.  The team has created the design with five types of protein: tuna, salmon, chicken, turkey and ham. The green tuna and red salmon cans were selected for their bold colors. The chicken cans were selected to frame with their white color, and the turkey and ham cans were selected to blend into the background by only hinting the red/green color of the opposite side of the structure. Food banks commonly have protein shortage, but with the sculpture, the team is helping proclaim, "Yes we can say no to hunger."
JanCom Technologies Inc.
Set in Austin, the team created a backdrop of the city's skyline out of ranch-style canned beans and 2.25 ounce H-E-B black olive cans. Front and center is the piggy/food bank, which sports a noticeable crack where food is spilling out from generous donors. Rather than going the route of creating a traditional pink pig, the team chose a more playful expression using VanCamp's pork and beans to sculpt. The team hopes viewers will be delighted enough to make their own donations to cure hunger once and for all.
W.C. Akins High School
The MockingCAN wall echoes the mockingjay graffiti from "The Hunger Games" trilogy. It comprised of two types of tuna (a product of District 4) and condensed milk to help build the bird and create a depth of color. Premium cut tuna in gold cans are used to create the outer ring, symbolizing the enslaving Capital and imprisoning the MockingCAN. District 12's hot flames along the bottom – created  using spicy tomatoes, mild diced tomatoes and salmon – will burn the cage up and free the MockingCAN. Tasty soup comprises the white wall provide support on the inside of the structure in addition to providing an easy to eat meal. Together, an array of food choices are available so the cans will be ever in your favor.
DCI Engineers, dwg. urban landscape architecture, EEA Consulting Engineers, GSC Architects, Hoar Construction and Kimley-Horn
Everone's favorite Lego mini-figure Emmet is on a mission to end hunger in Austin one can at a time. Hunger is not awesome, but we can help when we are part of a team. Just like in the movie, you don't need to be a superhero to save the world. While the team's design is fun and light-hearted, they want to bring awareness to the city's hungriest people – children.
Walter P. Moore and Page
It's time to kick hunger. Whether you call it soccer or football, The design team wants everyone to cheer on the team providing nutritious and delicious food to the Capital Area Food Bank. The structure is made up of food that will make any athlete strong for game day. A ball of more than 2,300 cans of tuna, a show of tomato sauce, peas, beans and olives, and field containing a variety of green vegetables. Score.
CTA Architects Engineers, Trimbuilt Construction, Square One Consulting and Jacobs
The team's sculpture is a tribute to the generous and caring spirit found in our community. The need is great for those who suffer from hunger and poor nutrition in our area. The structure includes a nutritionally balanced selection of canned foods and serves as a symbolic statement to remind us that big problems can be addressed when we work together. In Austin, we have big hearts, and for those who need it, there is also big hope.
Sixthriver Architects, Petrified Design, CJG Engineers
Camping allows us to come together in camaraderie and sacrifice to achieve a common goal: to build a basic shelter and enjoy the little things in life. Reminisce on the satisfaction you feel after pitching your tent, wiping sweat off your brow, sharing a meal—and perhaps some memories—around a campfire. Building our CANping scene at CANstruction is symbolic of the time we spent getting together for a common cause, community and good will. So whether we are planning our next community project, moving thousands of pounds of canned food or celebrating a job well done, we can all gather around the campfire and share our experiences together.