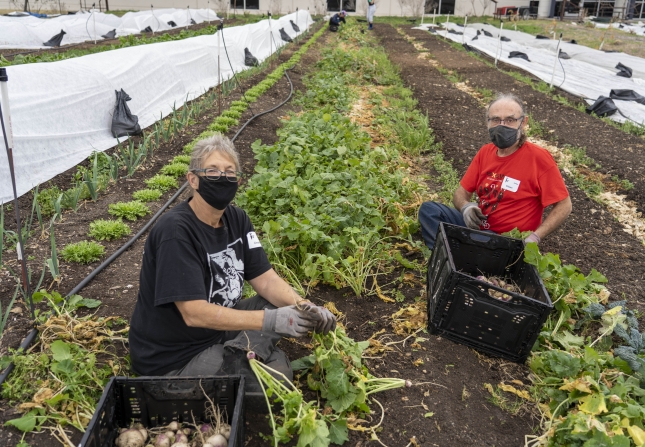 As long time Austin residents, Christine and William have seen many events around Austin benefiting the Food Bank. But it wasn't until the pandemic began that the couple started volunteering regularly at the Food Bank. 
The couple was affected by the pandemic. With less work, they looked for different ways to spend their time. With only a five-minute drive to the Food Bank, it was an easy choice for the couple to start volunteering at the Food Bank.
They have dedicated more than 789 volunteer hours since April 2013 across all of our volunteer programs. The couple likes to mix-up their volunteer experience, spending time in our warehouse, Mobile Pantries and kitchen. With encouragement from our staff, they decided to try out the garden volunteer opportunity.
"I don't know a whole lot about gardening, so I'm learning a whole lot of new things. …I didn't know absolutely anything about organic gardening. It's interesting," Christine said.
They know that the work they do is important. In the past, the couple has provided transportation to their friends to go to food pantries. They understand how hard it can be for food-insecure individuals to access food.
"Food is a right, there's no reason for people to starve anywhere or even be hungry or just be having white bread to eat or live in a food-starved neighborhood where you just can't get your produce and things, it's ridiculous," William said.
Thank you, William and Christine, for being flexible and helping us fight hunger in different ways. Your dedication to help others is incredible!
While Christine and William help harvest produce in our garden, our volunteers in the kitchen help cook it for distribution. One of those volunteers is Dylan who has volunteered more than 1,284 hours across our different volunteer programs and more than 1,192 in the kitchen.
 
Image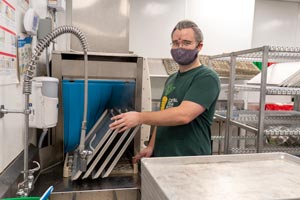 Dylan has followed his family's example of giving back. Growing up, his family gave back to the community during the holidays.
He began volunteering at a food pantry, but when he noticed the commute to the Food Bank was closer, he decided to give our kitchen volunteer opportunity a chance. Since then, Dylan volunteers regularly and has stepped up to become a kitchen volunteer leader.
"I enjoy it. It used to be that being a volunteer lead in the kitchen, was a very good project management experience but at the same time I just ultimately enjoy coming back here. It is fun, I do like it," Dylan.
While volunteering in the kitchen, Dylan has picked up general kitchen and cooking knowledge, which has sparked his interest in cooking. At home, he cooks for others. His favorite food to make are dishes that yield high volumes and require low effort like stews. 
When the pandemic began, the Food Bank had to temporarily cancel our kitchen volunteer shifts as we adapted our operations, but that didn't stop Dylan from helping out. He continued to make a difference in our warehouse until the kitchen opened again.
Dylan, we are so grateful to have you help in the kitchen. We know we can count on you to lead the volunteers and get the job done. Thank you for all that you do to help us feed families in need.