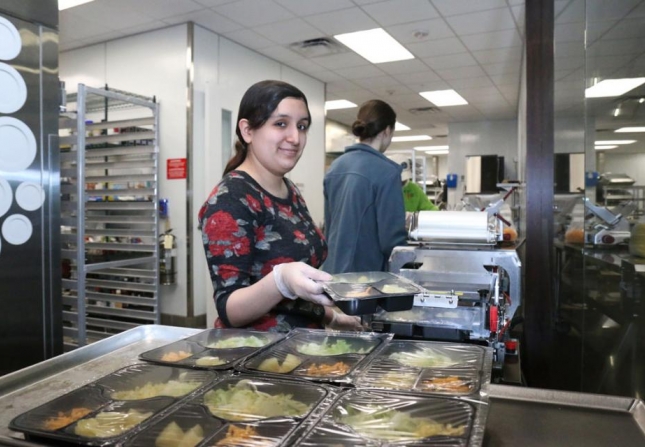 When Davida volunteers at the Food Bank, she can be found in the kitchen, usually sealing kids meal trays. Since January 2017, she has donated more than 488 hours of service.
Her interest in cooking began at home when she would watch her stepmom cook. Around four years ago, they began cooking together, making anything from Italian food to seafood. Davida's favorite dish to make is fettuccine Alfredo.
When her stepmom told her about the new volunteer opportunity in the Food Bank's kitchen, Davida jumped at the chance to help out in our state-of-the-art kitchen.
"I just really enjoy cooking. I like to do it at home. When they opened the kitchen, I was excited and then I started volunteering there a lot," Davida said.
Though she is very shy, volunteering and interacting with Food Bank staff and volunteers has helped her open up.
"I was shy and nervous when I first came here, but then I started to get used to it," Davida said.
With two years of volunteer experience, Davida has learned the ins and outs of the kitchen and has become a huge help for kitchen staff.
When the staff has to step out, Davida will take the lead and help volunteers with their work.
"Having her in the kitchen, she is just a great worker. She comes here a lot, so she knows all the equipment, all of our processes, which makes our life a lot easier," Food Bank Line Chef Chris May said. "We really appreciate her being in here and dedicating her time and hard work to all of us in here. It's great."
Her passion for cooking isn't the only reason she volunteers in the kitchen. Growing up, she was sad to see others not having enough to eat. Volunteering in our kitchen gives her the opportunity to make a difference.
"The reason I joined is because is wanted to help feed and help out the kids and the adults that need it, who are trying to survive, so they can be healthy and happy," Davida said.
Thank you, Davida, for your dedication to helping us feed kids and families in Central Texas. You are amazing and we couldn't feed families without your help!