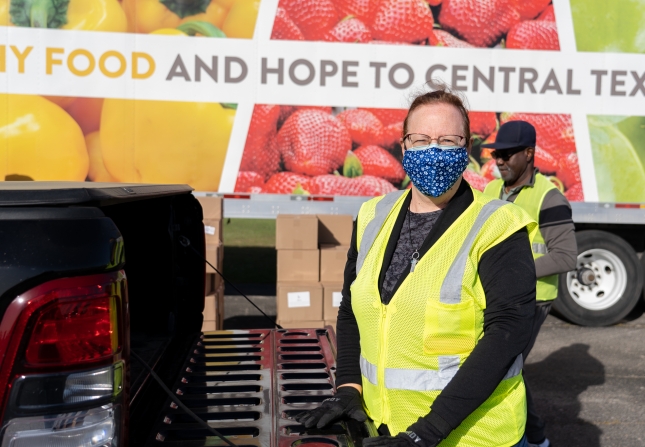 It was only a few weeks after the pandemic hit Central Texas that Cheryl, a physical therapist, was furloughed from her job. Local volunteer opportunities around Georgetown were limited in their capacity and availability. "I wanted something to do," Cheryl says, something that could fit with her schedule. "I've been volunteering since I was 12 years old. I am now 63," she explains. Clearly dedicated to service work, Cheryl wouldn't take long to find the best fit for her interests. She decided to sign up for a few mobile pantry shifts that were easy for her to access. "I feel like giving locally is a whole lot more important." Cheryl says. "This is right in the community."
Prior to the pandemic, Cheryl was volunteering in her field of work. Not just your average physical therapist, Cheryl says her colleagues describe her as having a special touch for the type of work she does, which includes working with persistent pain, rare disease and oncology patients. As a cancer survivor herself, Cheryl understands on a personal level what many of her oncology patients are facing when they come to her. An expert in her field with more than thirty years' experience, she enjoys the challenges that come with helping those who come into her care and find themselves in a more vulnerable situation due to their condition.
After some time getting comfortable at the mobile pantry distributions, Cheryl made her way to the warehouse for a few shifts to be a part of the product recovery experience. But it wasn't until she tried the kitchen that she found the camaraderie she was looking for, similar to what she appreciated so much about the mobile pantries. "You kind of get to know the people," she says. Now she splits her time evenly between the two, with one shift at the kitchen, and one at a mobile pantry, each week. "You start to recognize them, they start to recognize you," she says of her experience getting to know some of the regular clients she sees at the mobile pantry sites. She enjoys getting to know her neighbors better and greeting familiar faces during the distribution.
For Cheryl, it's also a priority to be able to show up consistently. "I just think that it recreates my energy," she says. Even though it can sometimes take up to an hour and fifteen minutes of travel time for her, "I don't feel like it's a stressful way of giving back." Cheryl feels fulfilled at the chance to connect with the Food Bank clients, staff, and fellow volunteers at her mobile pantry shifts. "It's that thing that Gandhi said, you know, 'be the change that you want to see in the world,'" which has become her life motto and is evident in her actions and her work.
Thank you for being the change, Cheryl. We appreciate all you do to fight hunger in your community!