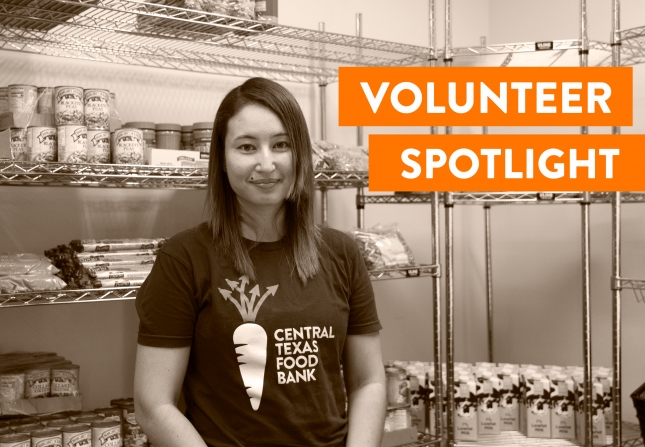 In less than a year, Central Texas Food Bank volunteer, Angelica, has made a huge impact on our community. Shortly after moving to Austin with her husband from the Bay Area, Angelica jumped right into volunteer work. In the eight months since, she has already trained to volunteer in our mobile food pantries, our onsite pantry, and our CSFP distributions and has become an integral part of our office as an administrative volunteer.
Angelica grew up in Colombia, learning about values like community and generosity from her close-knit family. "I grew up in a very collaborative environment," Angelica recounts. "My grandmother was a very generous person…the kind of person who helped her neighbors if they were sick or gave them food if they needed it." The example her grandmother set for her family left a lasting impression on Angelica, encouraging her to show up in her own life with kindness and compassion for others—and in particular to understand the value and impact of food on families and communities.
In her experiences with the Food Bank, Angelica has found joy in getting "to speak with the clients, explain what resources are available, understand what it is that they need in order to help them." Angelica shares, "It's one of the parts that I enjoy the most."
It's not just the face-to-face interactions with our neighbors that she enjoys, but supporting behind the scenes as well. With her background in computer systems engineering, Angelica has an aptitude for problem-solving and practical application. For the last several weeks, she has supported our Programs team with data collection and record keeping, ensuring that we stay up to date with the most accurate information collected from our distributions.
When it comes to the time she spends volunteering in the onsite food pantry, Angelica appreciates the value placed on providing healthy, nutritious options for neighbors. "One of the things that I find so sweet is when moms come in with their kids, and I can share that here in the (onsite) food pantry they'll find healthy food. Then the kids will say, 'I want this!' or 'I want that!'" she says. "It's not just about grabbing any type of food to give out because people are hungry, it's about doing it right, so kids can grow up healthy and families can be well."
Before their time in California, Angelica and her husband lived in Brazil for five years. "The people are so warm and welcoming…I love the climate, the heat." It was just before COVID-19 hit that they moved to the Bay Area. In a completely new environment, with no established network of friends or family nearby, she found her time there to be incredibly isolating. Coming to Austin last year, she found a lot here that reminded her of her time in Brazil, not the least of which has been influenced by her experience at the Food Bank. Her impact is evident in the relationships she's built with the CTFB staff. Greeting everyone as she enters the building, it's clear she's found a sense of community here. "It's a really cool dynamic here, everyone has the same objective," Angelica shares about the Food Bank. "It's keeping in mind what people really need, how we can listen to them better and how we can help more. I love that."
We are so lucky to have someone like Angelica be part of our Central Texas Food Bank family. The work we do could not happen without the support of amazing volunteers, like her, who eagerly support our mission with their passion and dedication.
Thank you to Angelica and all our rock-star volunteers for helping us end hunger in Central Texas! Are you ready to help end hunger in Central Texas? Register to volunteer today and be a part of our community.