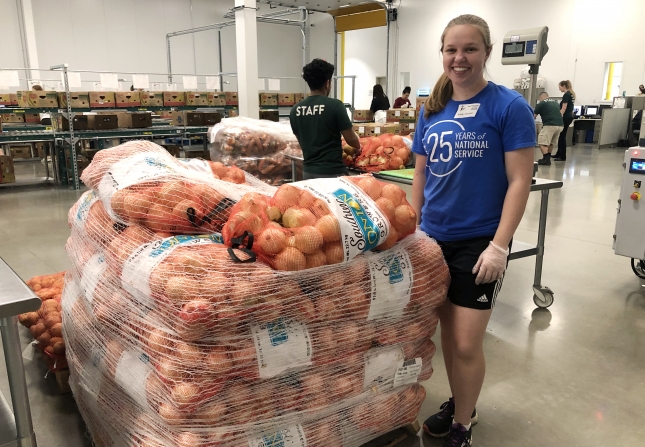 With school closures, Kelly, an AmeriCorps volunteer working with students, traded her school supplies for boxes and food items at the Food Bank.
Working with preschoolers, she has seen the impact of food insecurity first hand with kids arriving to school hungry. After volunteering at the Food Bank with her AmeriCorps cohort for Martin Luther King, Jr. Day, Kelly wanted to come back to help Texans affected by COVID-19.
She is now on track to complete 100 hours of volunteer service at the Food Bank!
"I wanted to respond to the pandemic by helping with one of the most fundamental human needs. The panics we've seen at grocery stores demonstrate that the very next worry down the line from illness is food. Of all the impacts of this pandemic, issues of food access are unique because of their immediacy and constancy… families need food NOW and continually to get through the intervening time," Kelly said.
Her experience in the warehouse would be different from when she volunteered in January, but she still has just as much fun. Even though Kelly still works with up to 30 volunteers per shift, she feels safe at the Food Bank with all the extra sanitation precautions and volunteer adjustments the Food Bank has put in place.
"We still play music, tell jokes, and exchange stories -- there are just fewer people in the room so we can keep social distancing. I didn't expect it, but I've actually made new friends over these past few weeks!" she said.
Though Kelly has been a regular face in our warehouse these past few weeks, she has also taken on the opportunity to help distribute the boxes she helped built at our Mobile Food Pantry distributions. But it's not just her.
Kelly's service spirt runs in the family. When San Saba's only grocery store burned down recently, her family couldn't just sit. They went above and beyond to join Kelly at our Mobile Food Pantry distribution there.
"When I told my family at dinner that San Saba's only grocery store had just burned down, my dad looked at my brother and said, 'Let's go on a road trip.' Next thing I knew he was calling around to our extended family; some of them had to stay away for health reasons, but an uncle and aunt did join us!" Kelly said.
The distribution was a completely different experience than her volunteer work at the Food Bank—from helping people who arrived in cars, on bikes and even someone who rode a lawn mower to the distribution.
"Knowing that there is less suffering and worry in the world because of our work is such a warm feeling," Kelly said.
This Volunteer Appreciation Month, we're so grateful for volunteers like Kelly, who are on the front lines of helping us feed our neighbors affected by the pandemic. Thank you for making a difference during this challenging time!