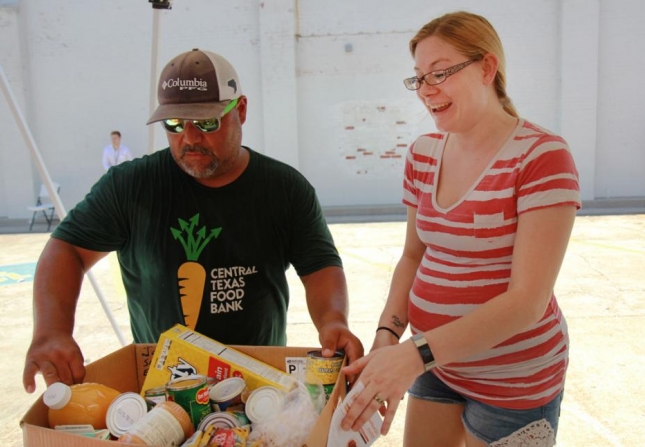 Logging more than 800 volunteers hours since 2003, Wanda Mills was recognized Monday as the Capital Area Food Bank of Texas volunteer leader of the quarter.
Each quarter, a volunteer who has gone above and beyond to support our mission to nourish hungry people and lead the community in ending hunger is recognized by the Food Bank executive staff.
"We are proud to honor Wanda Mills for her exceptional service to our organization," said Jackie Rogers, Food Bank community relations director. "She truly cares about the people we serve in the community, and we are lucky to have a dedicated volunteer such as Wanda."
After retiring and searching for a charity to donate her time to, Mills approached the Food Bank in 2003 when it was in the middle of starting a new ink cartridge recycling program to bring in additional funds. Between her passion for a clean environment and her recycling expertise, Mills hopped on the project with the rights skills to make "Ink Out Hunger" a success while simultaneously bringing in thousands of dollars for the Food Bank.
With years of experience under her belt, Mills guides volunteers as a volunteer leader and represents the Food Bank at community events as a volunteer ambassador.
"Wanda has become a regular fixture at Food Bank events, always advocating for the cause and promoting our mission," Rogers said.
In addition to donating time, Mills collects food donations on a weekly basis during the holiday season. Mills said retirement has been a time she could truly help an organization carry out its mission.
"Shop around for an organization that touches your heart and volunteer in whatever capacity your schedule allows," Mills said. "The Food Bank does good in the community and utilizes volunteers well, while making them feel appreciated."
The Capital Area Food Bank mission could not be carried out without the dedicated work of volunteers.
Wanda, we greatly appreciate you and everything you have done and continue to do for the Food Bank.  Thank you for all of your support and dedication to ending hunger in Central Texas.