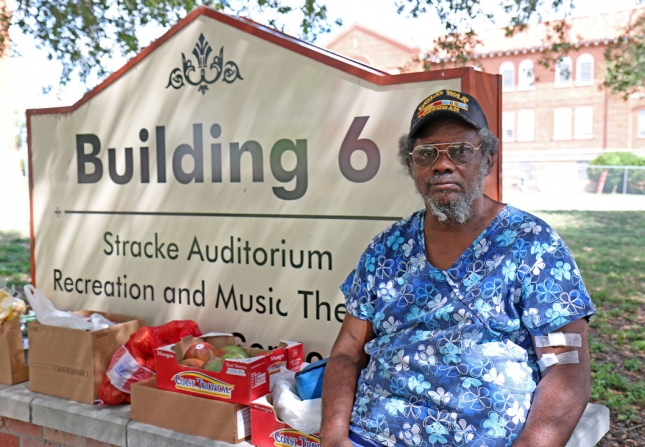 After getting his food from the Food Bank's distribution, Otis needed to sit down and rest. The 59-year old veteran has diabetes, hypertension, knee and kidney problems. He can't walk more than two or three blocks at a time.
"It's depressing. I can still remember when I could get around good," Otis said.
Otis injured his knee during his service in the U.S. Navy in the 70s' and early 80s' where he served in Charleston, Norfolk and in Europe as a maintenance technician doing welding, brazing pipes and general repairs.
Though he was injured during his time in the Navy, he "had a great time" and proudly wears his Cold War hat.
These next couple of months will be hard for the veteran. His only transportation, a van, needs some repairs before he can use it again. Otis receives SSI benefits, but it's barely enough to cover his expenses. It will take months to save enough on his fixed income get a new battery, tires, horn, inspection and insurance for his van.
However, the van isn't Otis' only worry. The $40 he receives in SNAP benefits usually runs out before the end of the month.
"We usually run out of food towards the end of the month, so right now we haven't had a chance to go shopping yet… You can't shop for $40. We can't shop at Walmart. It's too expensive. We go to the cheapest store you can go to. Pick out some of the cheapest stuff you can," Otis said.
During his craft group at the Waco VA Center, Otis learned about the Food Bank's Mobile Pantry distribution. He has been able to pick up fresh produce, staples and more to cook dishes like tuna casserole and beef stew.
"I got some carrots. I love carrots! I can cook them really well. I got me some onions, I needed some onions, Got some beans and rice. I was raised on beans and rice! Milk, I'll use that. Potatoes I was completely out of potatoes. That beef stew, I'm having one of those when I get home," Otis said.
Prior to COVID-19, veterans like Otis could get food at the Food Bank's veteran-only Mobile Pantry distribution at the Waco VA. Since the pandemic began, the Food Bank has changed its distribution model. Veterans like Otis and McLennan County residents can now go to our mass distributions in Waco to receive an emergency box of food.
With all the food Otis received, he was already planning his meals when he got home.
"A big thank you! Thank you very much. I'm sure the other vets appreciate it too," Otis said.