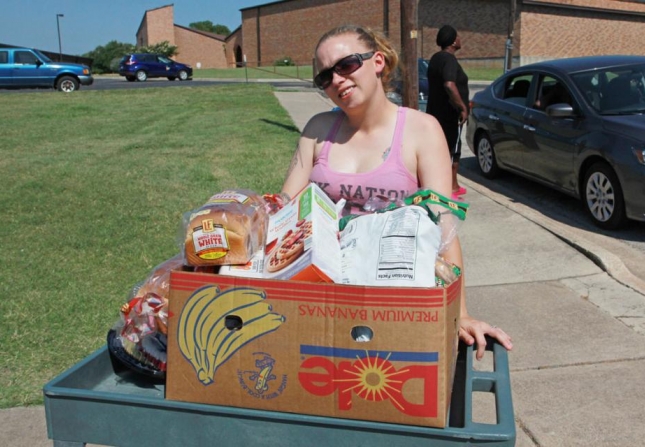 By Derrick Chubbs, president & CEO, Central Texas Food Bank and Nikki Graham, Austin Market President, Bank of America
With the high cost of housing in Austin, Ashley could no longer afford to live in the city and support her two daughters. She made the tough choice to move to Copperas Cove.
Even after the move, it has been tough for Ashley to make ends meet, especially when she runs out of SNAP benefits in the middle of the month. To make sure her daughters get the fruits they love, she relies on her local food pantry down the street to provide them with the nutrition they need.
"If these services weren't available we would probably go three days with little to no food, scrounging things together. That's pretty much what we would go through," Ashley said.
Sadly, Ashley's story is not unusual. She and her daughters are just a few of the nearly 450,000 people in Central Texas who are food insecure. In fact, 1 in 6 Central Texans and 1 in 5 Central Texas children are at risk of hunger. Shockingly, both figures are above the national average. And despite the Food Bank's best efforts, including the distribution of more than 45 million pounds of food last year, there was still a 30% shortfall in meeting demand.
Throughout the Central Texas Food Bank's 21-county territory, every community has food insecure households and many rely on local food pantries and soup kitchens, as well as the Food Bank's mobile food pantries. Because local Bank of America employees are committed to serving the communities in which they live, last year they donated 117 volunteer hours at the Central Texas Food Bank, helping the Food Bank in their mission of serving 46,000 of our neighbors in need each week.
Hunger isn't just an issue for those who experience it. In addition to causing development delays in children, hunger and food insecurity affect economic mobility, costing the U.S. economy as much as $167 billion per year. This figure includes expenses associated with operating food banks, soup kitchens and shelters; the cost of treating illnesses and psychosocial problems; and costs related to diminished academic achievement for students and lower productivity for working adults.
When people have consistent access to food and are able to afford it, they are often stronger and healthier, and can focus on achieving financial stability. That's why Bank of America partners with nonprofits that are advancing economic mobility, by addressing basic needs (food and shelter), and providing education and job skills training that are needed for meaningful employment. Through its philanthropic efforts and the power of its employee volunteers, and Better Money Habits personal financial tools, they're helping to create thriving economies and a better future for us all.
For seven years, Bank of America has supported the Give A Meal program, a Feeding America initiative. For every $1 donated to Give A Meal, from October 15 through the end of the year, Bank of America will give $2 more to help Feeding America and its network of 200 food banks provide meals to hungry individuals and families, up to a total of $1.5 million in online donations. 
When you donate, you can specify that your contribution comes back to the local food bank. And thanks to the Bank of America Foundation match each $1 donation will help provide 12 meals to our neighbors facing hunger.
Over the last five years through the Give A Meal program, Bank of America's donations helped to provide more than 234,000 meals for the Central Texas Food Bank and we're hoping to raise even more meals this year.
Together, we have the power to break the cycle and end hunger for people right here in Central Texas.
Donating is simple. You can donate online through www.bankofamerica.com/give