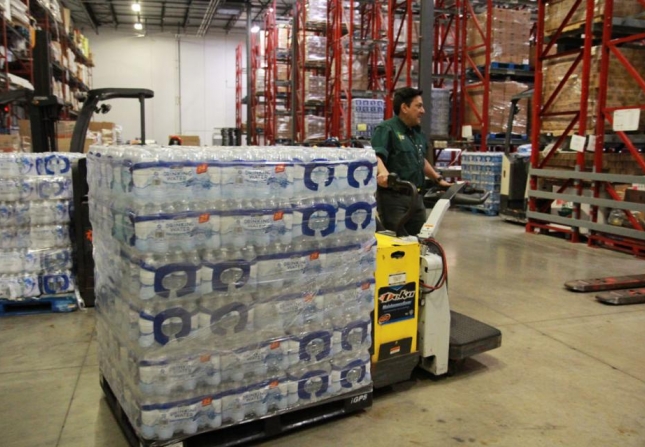 As heavy rains flooded areas in Central Texas, floodwaters brought massive amounts of silt and dirt into Austin's drinking water supply making it difficult for the water treatment system to provide drinking water for Travis County residents.
For the first time ever, the city of Austin issued a boil water notice on October 22. When the water failed to pass quality tests a few days later, a mandatory boil water order was issued. Central Texans would need to boil their water or buy bottled water for drinking and cooking.
For families struggling to make ends meet, the water order put an even bigger strain on their budget, making it difficult for them to stay safe.
Thanks to our friends, Randalls and H-E-B, we were able to keep up with demand and provide water to families in need.
Randalls generously donated one truckload of bottled water a day after the notice went into effect. To help us replenish our shelves, H-E-B surprised us with three truckloads full of bottled water throughout the whole week the order was in effect.
Thanks to the quick and generous donations, we were able to set out the water on our Partner Agency loading dock for our partners to take back to families across Travis County. Our Partner Agencies were able to take as much as they needed to meet the demand at their pantry.
Thank you so much, Randalls and H-E-B, for helping us keep our community safe!
To ensure the Food Bank can quickly respond to any disaster, we also keep cases of disaster boxes filled with emergency food on hand.
When Hurricane Michael struck Florida, a large volunteer group of high school student volunteers packed disaster boxes to send to Florida. Our community partner, Tito's Handmade Vodka®, purchased these boxes from the Food Bank and sent a truckload to Florida. Thank you, Tito's, for ensuring our neighbors in Florida received the help they needed.  
We are so grateful for our amazing community who always steps up to help others during disasters. We wouldn't be able to quickly respond to disaster without the support from everyone.