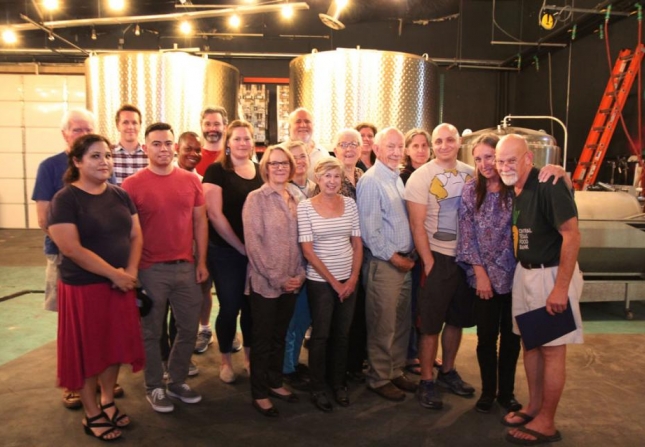 Day in and day out, our volunteers walk through our doors for one purpose: to help feed families in need. A few weeks ago, our volunteers traded in their hair nets, pallet jacks, shovels and desks for a special evening at Infinite Monkey Theorem for our Volunteer Appreciation Party.
We are so grateful for our amazing volunteers who make it possible to provide healthy, nutritious food for Central Texans in need. This past year, our warehouse, kitchen, Mobile Pantries and garden programs saw record turnout of volunteer support setting a new record–more than 153,000 hours of service at the Food Bank!
"[Volunteering] means that people are getting fed and that children don't go to bed hungry. Volunteering frees up the staff out here to do their duties. I love everybody out here," volunteer Wanda Mills said. "This is a great place to volunteer. Everyone is here because they believe in the mission and I believe in the mission."
To celebrate, Chef Kim and her kitchen team provided bites and dessert for our volunteers to enjoy while they mingled and decided what prizes to submit their raffle tickets to. With our Volunteer Leaders, Ambassadors and Representatives all in one place, our CEO Derrick Chubbs began presenting silver and gold pins to recognize volunteer leaders who have dedicated more than five years of service to the Food Bank. Congratulations to our long time volunteers:
Five year Silver Pins: Dedicated five or more years in the Volunteer Leader role
Nancy Carrales
Jon Dullnig
Lawrence Hogan
Greg Sharp
Kate Wenzel
10 year Gold Pins: Dedicated 10 or more years in the Volunteer Leader role
Jimmy Mills
Cathy Roach
Ruth Kaplan
Susan Crews
Wanda Mills
With each and every volunteer bringing something special to our mission, we continued the awards by presenting certificates to recognize the outstanding work and unique qualities of our volunteers.
To end the night and thank our volunteers for their hard work, we raffled off prizes ranging from tickets to the Austin Symphony to gift cards for the movies.
We can't thank our volunteers enough for their service. Our volunteers support us in hosting more than 600 community events annually, checking-in hundreds of volunteers daily and sorting food and preparing meals for nearly 46,000 people each week.
Over the past 10 years, our Volunteer Leaders, Ambassadors, and Representatives have dedicated a total of 7,152 hours or the equivalent of 894 working days to helping Central Texans in need. Their dedication is immeasurable.
Thanks to all of our volunteers for an amazing year!