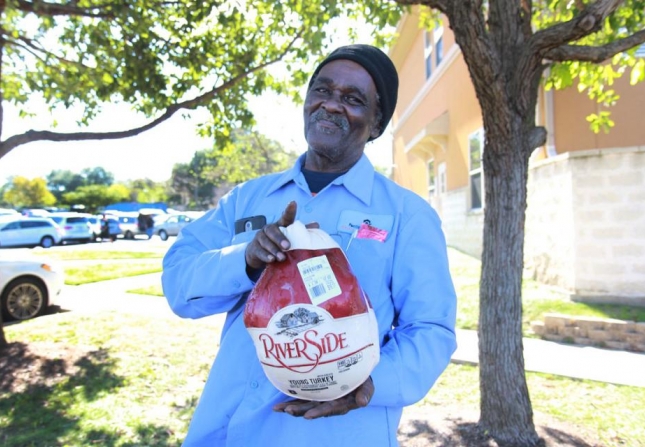 On his way to a turkey distribution, Donald took a couple of wrong turns and got lost. He was counting on a turkey from the pantry for Thanksgiving and was afraid he would arrive too late.
Donald is 66 years old and had wanted a child for years. With a 5-year old daughter in his life now, he is trying to give her everything he can.
He just couldn't miss the distribution.  He needed to take a turkey home to be able to provide a Thanksgiving for his daughter Kennedy, who had been asking him when it was happening.
"My daughter is the greatest thing. She's got a strong will, which I don't try to break…she's got a lot of love in her heart for everybody. She's real cheerful, and she's loves to play. I can't say enough about her, you know?  It's like there's so many things," Donald said.
As a single dad, raising his daughter hasn't been easy. When she was born, Donald lost his job and could no longer afford to provide a roof over their heads. He put all their belongings into storage and bounced around friends and family's houses.
"I didn't have enough money to keep the rent going, so I had to put all of our stuff in storage, which left me, basically, penniless.  And I had to call some friend and I had to wander around here and there trying to get things worked out so we'd have a place to spend the night," Donald said.
Eventually, they went to stay at the Salvation Army while Donald looked for a job. Job application after job application, Donald finally landed a job at UT working at night helping clean the campus.
With help from Caritas of Austin and a new job, Donald and Kennedy were finally able to move in to a place of their own.
What Donald earns is still not enough to make ends meet. To make it through the month, Donald visits his local pantry to ensure they have a meal on the table.
"I got bills still to pay, and I'm thankful for the little things…I'm thankful that I have corn, green beans, some mashed potatoes, and some milk.  I have some mac and cheese.  So, you know, that'll get us through," he said.
Though Donald arrived to the turkey distribution with time to spare after getting lost, getting a turkey meant more than just a Thanksgiving meal.
It meant being able to give his daughter a memorable Thanksgiving and being able to put food on the table for the next couple of days.
"I don't have to worry about how I'm gonna have to feed my kid for the next week. Because a turkey, and everything that goes along with it, you have a meal for at least a week. Especially when it's just the two of us," Donald said. "We can fix sandwiches and, we can just enjoy.  And, it takes a lot of the pressure off, so you don't feel like, man, what am I gonna do, you know?"
This holiday season, hard-working families like Donald's rely on the Food Bank to be able to share a special holiday meal with their loved ones. We need your help to ensure no one goes hungry this holiday season.
Thanks to some very generous matching donors, every dollar donated from now through December 31st will help us provide 8 meals to families struggling to make ends meet. Give today and provide hope for the holidays!