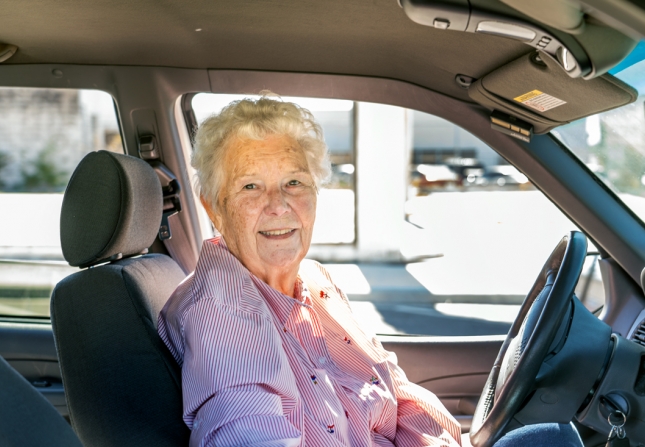 Sometimes Janet has trouble walking, standing, or even laying down. Last year, she found out that she has two ruptured disks in her back. The pain goes through her back and down to her legs. At 91-years old, Janet feels like her body wouldn't be able to endure the surgery to fix her back problems. 
"It's painful. And when you hurt so bad, even when I try to stand or be laying or whatever, it felt like somebody was dropping cold water on the top of my foot or my toes, but I had pains all the time," Janet said. 
She has tried to make the best of her situation by going to physical therapy and taking over-the- counter pain medication, but when COVID-19 began, she could no longer go to physical therapy. She began doing the exercises at home.  
When she feels well, she goes to the Food Bank's partner pantry, Shepherd's Heart Taylor. After Janet's husband came back from World War II with knee injuries, the doctor told him to exercise his knee. For him that meant dancing the night away. During one of those dances, he met Janet and in 1947 they got married. 
Almost ten years ago, he passed away after multiple strokes. Since then, Janet has been getting food assistance from the pantry. Janet lives off her retirement, but it isn't always enough.
"Sometimes I'm waiting for that check to come in.  But that's all right, that's all right. God's always good, and he's always making sure I got something to eat and that I've got house to live in," Janet said.
Living on a fixed income is tough and she relies on the help from the pantry to supplement her groceries. Before her back problems, she used to volunteer at Shepherd's Heart and pick up food for herself after she was done volunteering. Now the volunteers prepare grocery bags—which contain staples, protein, bread, produce and canned goods—and take them out to her car, helping keep her safe during the pandemic.
At home, she makes different dishes with what she receives, like meatballs, soup and meat with gravy. 
Additionally, Janet participates in one of our senior programs: the Commodity Supplemental Food Program (CSFP). As part of our efforts to help reduce hunger among older adults, our CSFP and our Healthy Options Program for the Elderly (HOPE) provide seniors like Janet a 30-pound box of healthy, shelf-stable foods each month. Last fiscal year, HOPE and CSFP distributed more than 1.8 million pounds of food at 80 HOPE and CSFP sites to an average of 6,245 seniors each month.
After nine years of receiving food, Janet feels grateful for all the help she receives to help her stay healthy.
"Thank you so much.  Thank you. I think God put them here for a blessing," Janet said.