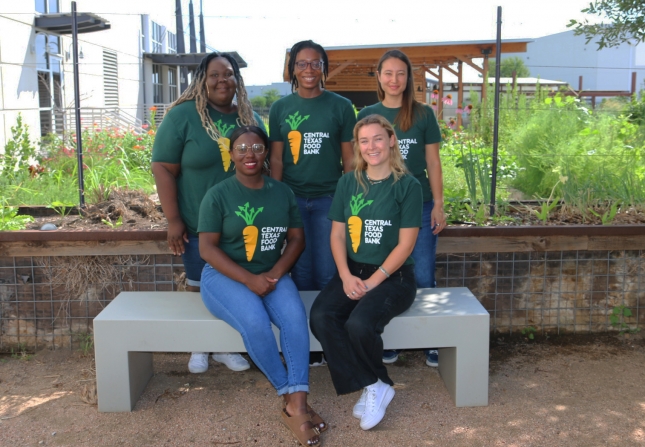 The Central Texas Food Bank is dedicated to providing nutritious meals to children facing food insecurity across our 21-county service area to fuel their bright futures. Over 125,000 children are at risk of experiencing food insecurity in Central Texas. Throughout the year, the Food Bank offers an array of robust programs to combat child hunger.
Brianna, manager of the Children's Programs team, joined the Food Bank in 2023 with five years of experience in child nutrition, specializing in after-school and summer meal programs. She brings a positive attitude and excitement for deepening her knowledge of the various programs the Food Bank offers. "We're making an impact and helping schools serve their children better," shares Brianna.
The team leading this important work demonstrates exceptional dedication and passion. Brianna is committed to expanding the Food Bank's program to reach more children. Tanisha ensures that all program details are carefully managed, drawing on her historical knowledge of Food Bank practices. Chek, a nutrition expert and former Meals on Wheels employee, inspires children with her enthusiasm for healthy food. Angelica, who began as a Food Bank volunteer, provides outstanding customer service. Lastly, Ava, a diligent summer reporter, works closely with partners to ensure their needs are met promptly.
Read more about the Central Texas Food Bank's Children's Programs.
National School Lunch Program
The National School Lunch Program (NSLP) is a federally-assisted meal program that supports the well-being of over 3 million children in Texas. It offers nutritious and free or reduced-priced lunches to students attending public and nonprofit private schools across the state. The Central Texas Food Bank actively participates in the NSLP, serving a broad reach of 145 school districts comprising 435 schools across 28 counties. The Food Bank provides storage and delivery for large amounts of food when schools don't have the space to keep it onsite.
After-school Meals
The Child and Adult Care Food Program (CACFP) is a federal initiative that supports children and adults in care settings. The Food Bank's program has successfully implemented "Afterschool Meals" at 22 sites during the past year. These sites offer free and nutritious dinners from the Food Bank's onsite kitchen to children attending after-school programs. The program ensures its effectiveness and reach by collaborating closely with key partners, including Foundation Communities, Austin Parks and Recreation Department, the YMCA, El Buen Samaritano, and others. As the new school year approaches, this program will continue to impact the well-being of kids in after-school care.
Summer Food Service Program
During the summer months, when the risk of food insecurity increases for children and families due to time away from school, the Food Bank collaborates with community organizations at 45 sites across Central Texas to offer children free, nutritious breakfast, lunch and afternoon snacks. SFSP does not require enrollment and receives federal funding for operations. Children can visit a summer meal site and receive a freshly prepared hot or cold meal from the Food Bank kitchen. This year, the number of meal sites doubled, serving approximately 3,000 meals daily.
School Pantries
School pantries serve students and their families by offering essential food support. Current school pantries are conveniently located within 19 Austin Independent School District (AISD) schools, comprising 16 elementary schools, two middle schools and one high school. These pantries provide a more convenient solution for families as they can access food while picking up their children.
Additionally, specific pantry services tailored to colleges and universities in Travis County address combat college hunger. 29% of college students face food insecurity in 4-year institutions, and this percentage increases to 39% for 2-year institutions. Institutions such as Austin Community College, Concordia University, Huston-Tillotson University, St. Edward's University and the University of Texas are among those that benefit from these college-focused pantry initiatives.
The Children's Programs team at Central Texas Food Bank is fueling brighter futures for thousands of children in the region through these programs. By addressing food insecurity and ensuring that children have access to nourishing meals, the team helps create an environment where learning can be the primary focus for students. With their commitment to promoting health and academic success, the Children's Programs team plays a pivotal role in building a stronger, healthier, and more prosperous future for the children of Central Texas.
Pictured Above: CTFB's Children's Programs team, top to bottom, left to right: Tanisha Raymond (Children's Program Coordinator), Chekwube Agumadu (Children's Meals Coordinator), Angelica Cardona Bedoya (NSLP Coordinator), Brianna Fleming (Children's Program Manager), Ava Ghilarducci (Summer Program Coordinator – Reporter)