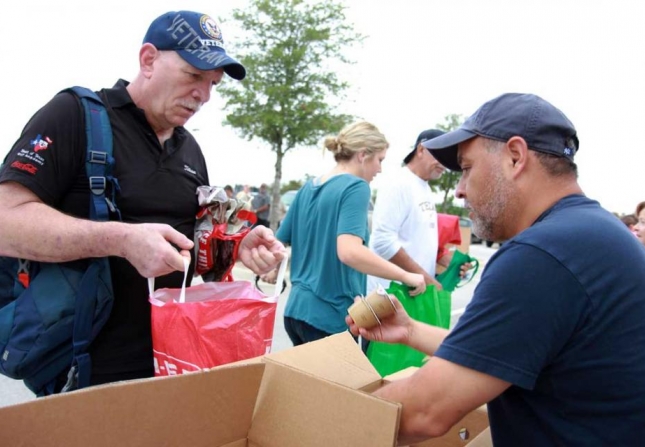 There's a new Mobile Food Pantry distribution site down the street from the Food Bank. Just like at any other site, individuals are lined up before the truck arrives. However, there's something unique about this site. Veteran hats prevail in the crowd.
A new partnership between Feeding America®, the nation's largest hunger-relief organization, and the Department of Veterans Affairs (VA) brings the Veterans Pantry Pilot (VPP) program to provide food assistance to men and women who have served this country.
Nationally, 20 percent of the households supported by Feeding America have a member who is a veteran or has served in the U.S. military. An estimated 25 percent of households served by the Central Texas Food Bank report that someone in their household has served in the U.S. Armed Forces or as a member of the military Reserve or National Guard.
For Central Texas veterans, the new VPP program means they can pick up nutritious food, such as staples and fresh produce, once a month at the VA Medical Center parking lot.
"We are so proud to be a part of this program that serves America's veterans," said Derrick Chubbs, president & CEO of the Central Texas Food Bank. "It's an honor to be able to give back to those who have given so much to this country."
The program kicked off in August and more than 16,000 pounds of nutritious food have been distributed to a total of 322 households, with 283 households identifying themselves as veterans.
The onsite assistance makes it easier for veterans who are receiving care at the VA to get food before or after their appointments.
Willie, an army veteran, started having health problems after inhaling tear gas during his service in the 70s. He has to use a breathing machine every day and his health has continued to deteriorate. Now he is unable to stand for very long or do everyday tasks, like cooking a meal, without assistance from someone.
"I can't do the stuff I used to. I just take it day by day. Most of the time I'm at the VA," Willie said.
The disability benefit he receives is barely enough to cover his expenses and his SNAP assistance doesn't last the entire month.
Willie isn't the only one. Military Reserve veteran, Peter, is also on a fixed income. He relies on the Food Bank's Partner Agencies throughout the month to eat. But the new VA Mobile Food Pantry distribution makes it easier for him to get food, especially since he travels on the bus.
Though veterans are our country's heroes, some of the veterans we serve think Food Bank supporters deserve recognition as well.
"I'd like to see their names in the paper and on the news. I'd like to hear about the people who donate," Peter said. "I'd like to see their names up there, because they're the heroes…thank you very much."