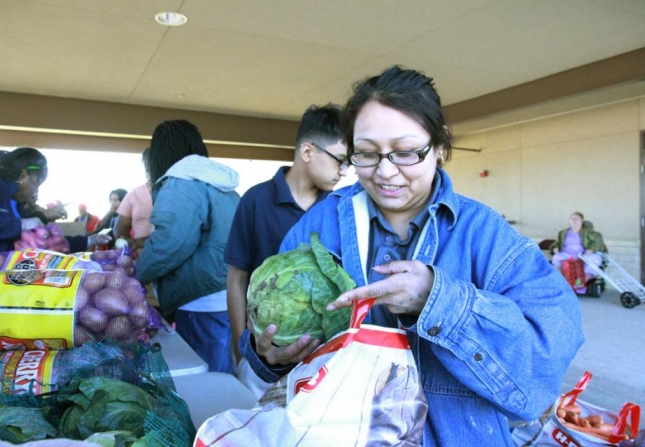 Twelve-year-old Isaiah and his siblings are already planning to go to college. They will be first-generation college students. While he likes technology, his older sister wants to be a doctor.
Isaiah's mom, Sandy, works at a dry cleaning store and his dad works in construction. They both work full time to provide their kids a bright future.
In addition to raising five kids, Sandy's family supports her mother-in-law and sister-in-law.
Though her mother-in-law works from time to time, she focuses on taking care of her daughter who suffers from epilepsy and must be taken care of when she has a seizure.
"She has attacks, so she prefers to take care of my sister-in-law. So she doesn't hit her head or something of that nature because it happens so fast. She faints and then she falls and she can hurt her head," Sandy said.
With only two working adults in the household, it can be tough to make ends meet. After paying all their expenses, the family doesn't have much left over for food.
To help stretch their budget, Sandy requests time off of work to attend the Food Bank's Mobile Food Pantry distribution in the morning.  By going, Sandy is able to save money and stretch her budget to pay other bills.
"The food that we receive here, it's good because what we make when we work is to pay the rent and bills because we're a very big family. The food that is given here, helps a lot," she said.
At the distribution she receives pantry staples, fruits and veggies. Everything she needs to keep her family healthy.
"They give us cabbage, lettuce, milk. Sometimes they give onions, tomatoes… what they do give, we're very grateful for," Sandy said.
Sandy gets creative in the kitchen with the food she receives. Sandy will add cabbage to the enchiladas she makes and the potatoes are mixed with chorizo.
Without the fresh produce she receives at the distribution, Sandy's isn't always able to afford fruits and vegetables that are needed for a balanced diet.
"Vegetables are very expensive at the store; it's the most expensive that there is. So that's why I come here so they can help me," Sandy said.
Her family is very grateful for the food they receive from the Food Bank, especially the nutritious produce Sandy gets to take home.
"We're very grateful for the help because it's very significant for my family and me," Sandy said.