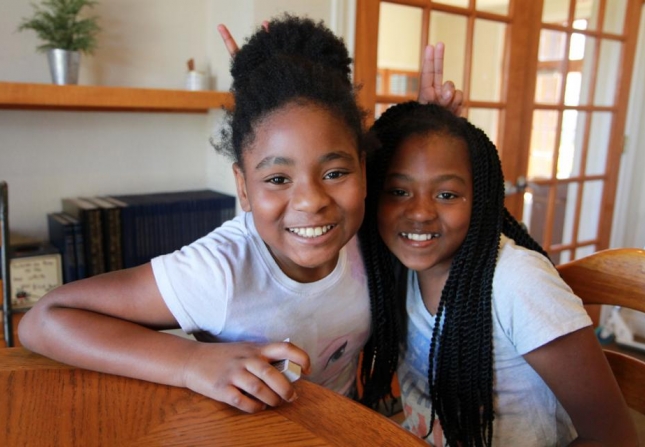 Every day after school, a group of children stop by their apartment's office before heading home. By 3 P.M. the Crescent Village resident activity coordinator, Yolanda, sets out bags on the kitchen counter.
The kids arrive ready to do their homework, play with the others, and to open the bag and see what food they will eat that day.
In the bag, they will find chicken nuggets, an orange, a juice and milk. Tomorrow it might be sandwiches and an apple. The meals they receive are part of the Food Bank's Kids Cafe program that provides healthy nutritious meals for children after the school day is over.
For 9-year-old twin sisters, Janiya and Jashana, the food they receive gives them a chance to eat a healthy balanced dinner and keep their stomachs full until their next meal.
The food makes Janiya happy "because if we don't eat something, we're still hungry after school," she said.
Janiya isn't alone. One in four children face hunger in Central Texas.
Thanks to a generous matching gift challenge, for every $10 you donate, you can provide 80 meals for children like Janiya and Jashana. Donate today! 
The site coordinator sees the face of hunger first hand as the children who don't have enough to eat ask for seconds.
"Some of the children know that they don't have the food at home so they'd rather eat here and then they know that they'll at least be fed for the evening time," Yolanda said.
The twins have been attending the Kids Cafe site for two years. The food they receive there helps their mom, who works long hours at Walmart to provide for them and their older brother.
The Kids Cafe site at Crescent Village is just one of the 50 sites in Central Texas. Last year, the Food Bank served nearly 114,00 meals across 43 meal sites.
In addition to the kids receiving a nourishing meal, they also get to taste food they have never tried before, like raisins and different kinds of sandwiches Yolanda said.
At home, Janiya makes herself a unique kind of sandwich that her sister can't bear to eat- peanut butter and jelly sandwich with syrup. Jashana will go the more traditional route and prepare her sandwich in a specific way.
"I put the mayonnaise then the cheese and meat and then the mustard and pickles," Jashana said.
The girls also like to eat fruits and vegetables. Janiya likes all the fruits, she said, especially strawberries and mangoes and her favorite vegetables are carrots, peas, corn and broccoli.
When they're hungry, they complain to their mom, Jashana said. But the food they receive at the Kids Cafe site will help them fulfill their dreams. Janiya wants to be a doctor, a ballerina teacher, a track coach, a nurse, a basketball coach and she wants to do gymnastics. Jashana wants to be a lawyer and help people.
Janiya feels good knowing people are helping them with food, she said.
Today, the twins feel extra happy. It's chicken nugget day at the meal site, their favorite meal there. They eat happily at the table with a chicken nugget in one hand and a book in the other.
The Food Bank helps nourish children in our 21-county service territory. Need help? You can find a Kids Cafe site here.