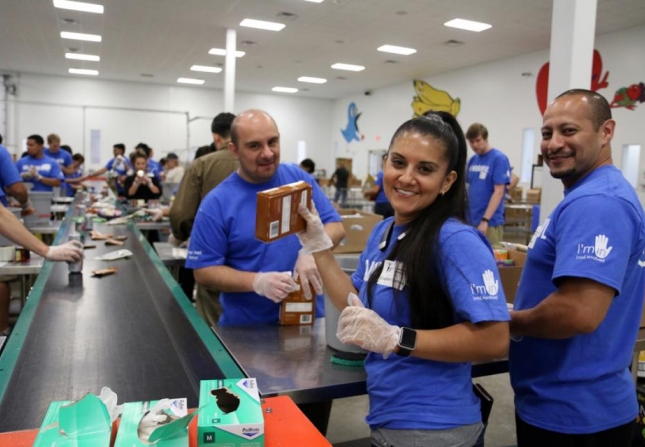 For years, Intel employees have walked through our doors excited to make a difference for our most vulnerable neighbors who are at risk of hunger. Thanks to their continued support, Intel has awarded the Food Bank a $10,000 gift through the Intel Involved Matching Grant program.
The grant is based on the amount of volunteer hours employees have donated to an organization.  After employees accrue a minimum of 20 volunteer hours, Intel will match every hour volunteered with a $10 donation per hour to the nonprofit.  
The grant encourages employees to make their community a better place knowing that their time will make an even greater impact after it's matched with a donation to an organization meaningful to them.
Thanks to all the hours donated from Intel employees, the grant was maxed out! We are so grateful for our partnership with Intel and their incredible support in fighting hunger.
Intel employees have been volunteering with us since the Food Bank was located on South Congress. They have donated 2,287 hours since 2007, helping us distribute healthy food to our neighbors in need.
When we opened up our kitchen in our current building, Intel employees signed up to help prepare kids' meals. Throughout the years, their blue shirts have filled our warehouse and they have been helping us give out food to families in need at our Mobile Food Pantries.
Even after donating hundreds of hours a year at the Food Bank, Intel employees take it a step further. They take the fight against hunger back to their workplace and encourage their co-workers to help Central Texans in need by hosting food drives.
With one in five kids at risk of hunger, Intel employees take child hunger seriously. They have filled hundreds of bags with healthy, non-perishable food, specifically for kids. Over the past years, Intel has raised more than 6,600 meals during their food drives.
Last year we distributed nearly 47 million pounds of food, but we couldn't do it without partners like Intel. Thank you, Intel, for your commitment to ensure families have nourishing meals to thrive and be successful.