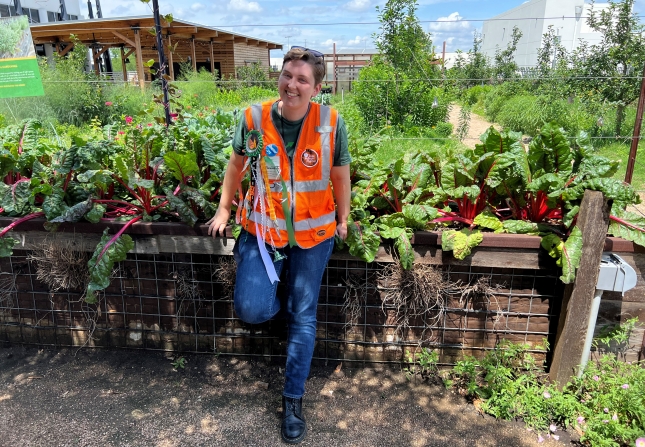 As Central Texas Food Bank Senior's Program Coordinator, Elizabeth Barnes (she/her) ensures that the senior population in Central Texas receives the food assistance they need while building meaningful relationships. Whether you meet her at a distribution, connect with her via a Partner Agency, or get the pleasure of working alongside her at the Food Bank, you see how she actively supports those around her and generously shares her expertise.
"Something I really love about my work at the Food Bank is that I get to use Spanish," Elizabeth shares. Elizabeth moved to Guatemala for two years after college, where she immersed herself in the culture and gained a deep appreciation for the Spanish language and advocacy work. Working at 32 Volcanes, she became fluent in Spanish at a moderate pace while connecting students and their families with wrap-around services such as education programs and no-cost healthcare. Elizabeth still maintains relationships with her coworkers from 32 Volcanes, returning to visit when she can, and serves on the board of their sister nonprofit, Foundation Todos Juntos.
Elizabeth enjoys how Central Texas Food Bank addresses our community's immediate food insecurity needs. She joined the team in 2017 to assist with our Commodity Supplemental Food Program (C.S.F.P.) and Healthy Options Program for the Elderly (H.O.P.E.) programs. One of the most remarkable characteristics of Elizabeth's work is her ability to connect with seniors on a personal level. These interactions allow Elizabeth to go the extra mile and check on our neighbors' well-being, brightening their day with sincere conversations and acts of kindness. "We're not just dropping the food and leaving, but also showing neighbors that someone is checking on you, someone cares and wants to know that you're doing okay," Elizabeth shares.
Elizabeth is proud of her positive impact on Central Texas Food Bank's Senior Programs. Throughout the challenges posed by the COVID-19 pandemic, she worked tirelessly to improve the client experience, leveraging personalized reminders and introducing music at distributions to create a genuine human-to-human connection. The senior neighbors appreciate this gesture, often sharing stories and reminiscing about songs from their youth, or hanging around the distributions to hear what song plays next.
Looking to the future, Elizabeth advocates for expanding and enhancing assistance for seniors in our region. Through her genuine care, relentless advocacy, and creative problem-solving, she continuously seeks to give our neighbors the dignity, respect, and support they deserve. By acknowledging their presence, listening to their stories, and offering assistance, we can make a difference too. Simply picking up groceries for a neighbor or taking someone to their doctor appointments can help bridge the service gaps. Elizabeth's example inspires us all to find ways to care for and uplift the older adults in our lives.
Elizabeth Barnes was celebrated as CTFB's March 2023 Team Member of the Month. Her favorite meal is an Indian samosa chaat.