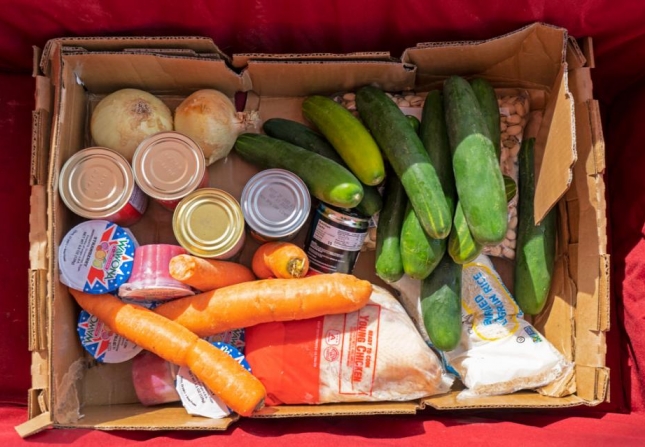 Hunger in Bell County is a serious problem that can affect anyone: kids, veterans, seniors and working families. In Bell County, 18.7 percent of residents and 22.7 percent of kids don't know where their next meal will come from.
No one should go hungry, especially children. How can you help?
Donate to the Central Texas Food Bank
The Central Texas Food Bank is Bell County's food bank. We partner with retailers, manufactures and farms to make your donation go further. With a $1 donation, we can provide four meals. Thanks to our purchasing power and fleet, we're able to distribute food to families in need across 21 Central Texas counties, including Bell County, through our network of more than 260 pantry partners and Mobile Food Pantry distributions.
We have also partnered with the Temple VA Clinic for a monthly, veteran-only Mobile Food Pantry distribution.
Additionally, we have a placed a Produce Hub at Churches Touching Lives for Christ. Last year, the retrofitted 40' shipping container helped us store and distribute more than 2.2 million pounds of fresh produce in Bell County and surrounding areas.
Between our partner pantries and Mobile Food Pantries, your neighbors facing hunger can turn to the Food Bank to receive nutritious food without having to travel to our headquarters in Austin.
Last year we supplied enough food to provide more than 8.5 million meals in Bell County. We distributed more than 10.2 million pounds of food in Bell County through our 22 pantry partners and programs.
Volunteer
We couldn't help our neighbors in Bell Country without volunteers. Each month, we rely on volunteers to help us run three Mobile Food Pantries in Bartlett and Temple. Volunteers distribute food, provide cheerful assistance and help set-up and tear down the pop-up food distribution.
Individuals must be 8 years or older to volunteer at a Mobile Food Pantry. All volunteers under 18 years of age require an adult chaperone who is 21 years or older. Sign up for a volunteer shift here.