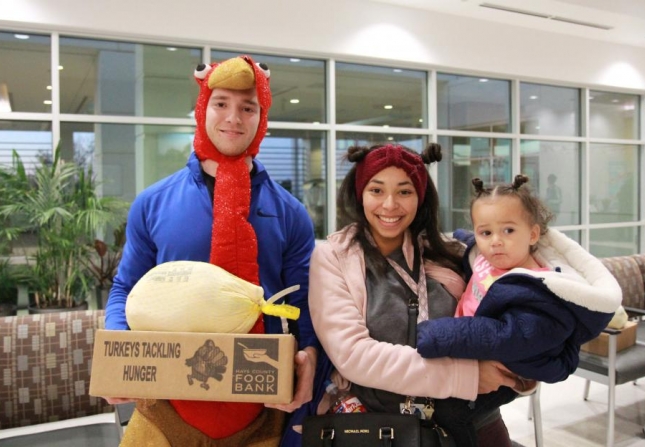 This holiday season is a special one for Sabrina and her daughter Aaliyah. It will be their first traditional Thanksgiving together. Something Sabrina didn't think would be possible.
The mother works hard to provide for her daughter and is working towards giving her a better future. She is currently a full-time student at Austin Community College (ACC) earning her child development associates degree.
Her goal is to continue her education and to become an occupational therapist.
In the meantime, she balances the responsibilities of being a single mom, being a student and working as a daycare teacher full time.
It's not easy. Sabrina recently moved out of her parent's house and into a home for her and her daughter. It's their first home together and she couldn't be happier. But making ends meet is hard. Sometimes she doesn't have enough to pay for all her expenses.
Though her family helps when they can, Sabrina prefers to put her baking skills to use to make it on her own.
"I bake cookies and I bake this apple coffee cake that everyone seems to be obsessed with. I make different types of cookies and I make cupcakes, stuff like that," Sabrina said. "I bake for the holidays to make ends meet, so I don't have to ask my parents for gas money. So that's what I do," Sabrina said.
Despite her hard work this holiday season, celebrating a traditional Thanksgiving with her daughter was out of reach. She couldn't afford a turkey and the accompanying sides.
When her ACC professor and boss learned about a special turkey distribution for Hays County residents, they quickly informed Sabrina about the opportunity.
With matching hairstyles, the mother-daughter duo lined up for the distribution. Sabrina was all smiles as a she received her turkey and a volunteer dressed in a turkey suit helped carry her food out to her vehicle.
With a turkey, Sabrina is excited to do all the cooking and host her family in her new home. More than anything, she's grateful for the opportunity to give her daughter a traditional Thanksgiving dinner alongside her family.
"It means a lot, because my family, we're really about being together, and we're all so busy with our lives… and I don't always get to spend time with my family. My daughter doesn't always get to see her grandparents, so it helps with that she gets to see them and we get to actually be together," Sabrina said.
As Thanksgiving nears, you can help fill dinner tables for hardworking families like Sabrina's. When you make a gift to the Food Bank through December 31, your gift will be doubled thanks to a $150,000 matching challenge by the Beaumont Foundation and a local Austin family. This holiday season, feel good again by making a gift to the Food Bank.
"Well, thank you, because we actually have a Thanksgiving!" Sabrina said.