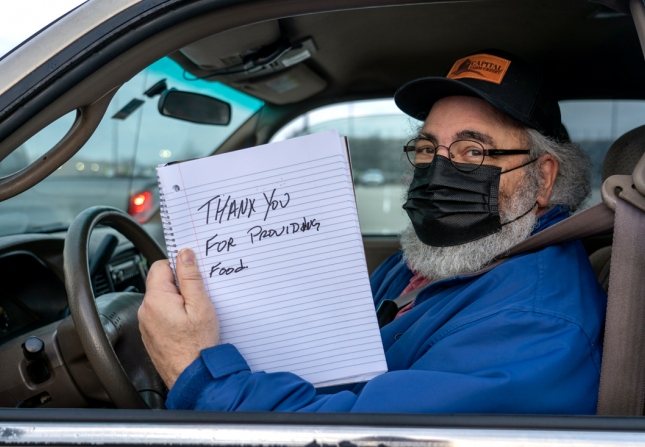 When restaurants began closing due to the pandemic, Joseph had to pack up his guitar. He lost gigs when the restaurants he played at permanently closed their doors. With that, Joseph lost extra income he relied on to make ends meet. As more restaurants continue to close, it has been even harder for him to book new gigs.

Joseph lives on a fixed income but it isn't enough to cover his medical expenses. He has diabetes and needs to take medication regularly. Though he lives with his son and daughter-in-law, it has been hard for the family during the pandemic. 

When Joseph found out about the Food Bank online, he decided to get help for the first time. Thanks to the food he receives at our Mobile Food Pantry distribution, Joseph doesn't have to make the tough choice between food and medication. 

"So with the Food Bank, it has provided me the ability to have food and also pay for the medicine that I need, so I'm very grateful to this company and I appreciate it and I'm sure everybody else does," Joseph said. 

Joseph's situation isn't unique, especially since the pandemic began. One in five Central Texans is at risk of hunger, that's up from one in seven the previous year. With business closures and furloughs, food insecurity continues to rise and more families than ever are turning to the Food Bank for the first time. 

To help meet the demand, the Food Bank distributed a record 64.5 million pounds of food last fiscal year. But the struggle isn't over. With no end in sight to the pandemic, Central Texans like Joseph need your help.

Help us keep up with the unprecedented demand by taking action during Amplify Austin, the 24-hour day of giving on March 4-5. But you don't have to wait until March. Early bird giving is now open. Thanks to the Sherlock Charitable Foundation, when you give before March 4, your gift will be matched, up to $10,000. 

Asking for help can be hard. Thanks to Amplify Austin, giving back is easy.