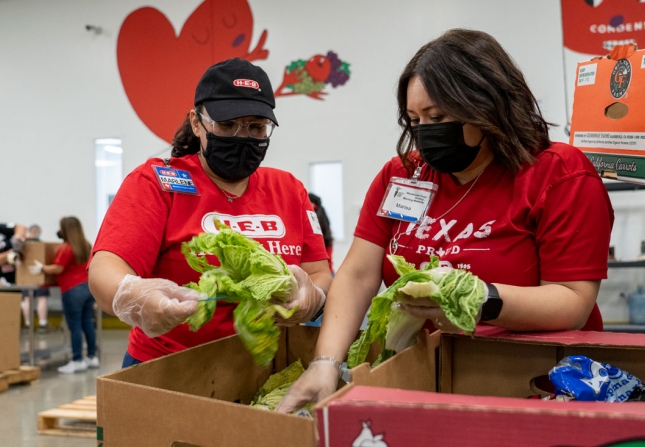 It's hard to miss H-E-B partners when they're at the Food Bank. Their bright red shirts are unmistakable. Whether it's H-E-B trucks dropping off food donations or H-E-B partners volunteering, we're always excited to see their bright red shirts. It means H-E-B partners are helping us fight hunger.
This National Hispanic Heritage Month, H-E-B partners were back at the Food Bank. During Hispanic Heritage Month, which runs from September 15 to October 15, we recognize the history, culture and achievements of our Hispanic community members.
H-E-B's Central Texas Hispanic Partner Resource Group wanted to celebrate by giving back to their community. They joined us in our warehouse to help us sort and pack food for distribution. Together, they processed 5,895 pounds, which provides 4,912 meals for Central Texans in need. 
 "Volunteering at the Food Bank during Hispanic Heritage Month allowed members of the Hispanic Partner (employee) Resource Group to learn more about H-E-B's commitment to hunger relief while coming together, outside of our respective stores and offices," H-E-B's Director of Retail Operations Monica Hernandez said. "At H-E-B, we believe that each and every person counts, and giving back to organizations like Central Texas Food Bank allows us to help our neighbors in need. We take pride in being Texans helping Texans." 
Hunger Relief is one of H-E-B's philanthropic pillars. Though H-E-B partners celebrated National Hispanic Heritage Month at the Food Bank, H-E-B fights hunger year around through the Food Bank Assistance Program, Feast of Sharing holiday dinners, and disaster relief efforts. 
Once H-E-B partners completed their volunteer shift, they continued the celebration in our second product recovery area where tables and chairs had been set out. They surprised Food Bank staff with an appreciation lunch and reusable lunch bags filled with snacks.
Thank you, H-E-B partners, for celebrating National Hispanic Heritage Month by making an impact in our community and making our staff's day brighter. You always go above and beyond and we're grateful for your ongoing support to fight hunger!