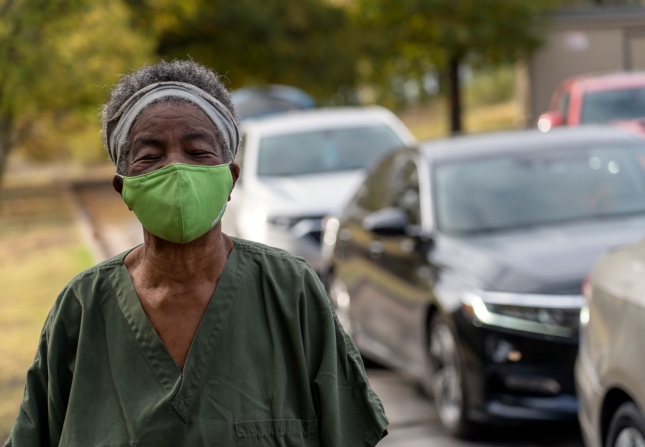 Ruby is 80 years old. As a long time Austin resident, she was familiar with the Central Texas Food Bank back when it was the Capital Area Food Bank. She reminiscences about the days she spent volunteering with the Food Bank.

After having two back surgeries, Ruby can no longer stand for long periods of time, which means she can't volunteer anymore. 
"I think I'm in good shape, except for having two back surgeries. But I don't let that stop me," Ruby said.

After years of working in the home health industry as a caretaker, she now relies on her Social Security benefits to cover all her expenses. She tries her best to make ends meet, but when times get tough, her children and the Food Bank help stretch her budget.

"The Food Bank has helped me tremendously with food. That's the main thing because I don't have to go to the grocery store as often, you know, I mean you get everything at the Food Bank there's really no need to go to the store," Ruby said.

The food she receives from the Food Bank helps her save money at the store to use for other expenses. As a way to say thanks, Ruby used to help at the Food Bank's Dove Springs and Montopolis Mobile Pantry distributions.

"The Food Bank is truly, truly a blessing and that's why I like volunteering and giving back—because it's been given to me, so I like to give back," she said.

Though she can't join Food Bank staff anymore, Ruby is still full of energy and continues to find ways to help her neighbors. She doesn't just worry about herself when she picks up food from the Food Bank.

"I'm picking up for two. I'm picking up for a lady that cannot come. She's in her 80s, she does not drive, she's my neighbor and she needs food. So that's why I'm picking up for her today and for myself," Ruby said.

Thanks to the Food Bank, Ruby can count on staples to fill her pantry and to help with the holidays ahead. With Thanksgiving just around the corner, she is already planning to use Food Bank food items for her Thanksgiving meal—she's saving the onions for the gravy she makes. 

As the matriarch of four children, four grandchildren and two great-grandchildren, Thanksgiving is a special time for the family to gather around a full table. 

"It means everything to me to come together as a family…to come together as a family is really a blessing. We pray together, we stay together," Ruby said.

For Central Texas families, the holidays are a time to celebrate cherished holiday traditions. We need your help to fill Thanksgiving tables for families like Ruby's. Thanks to generous matching donors, you're most generous gift makes TWICE the impact this holiday season.