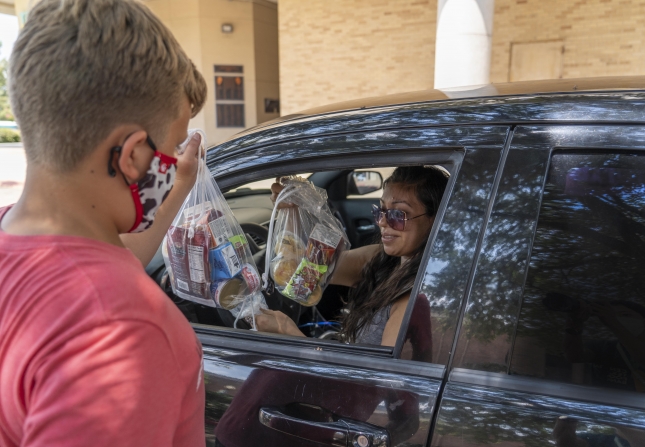 Leiandra is a single mom to a 15-year-old, 12-year-old and 6-year old. She works part time to provide for them, but it can get tough to make ends meet. Her parents help out when they can, but now that they're older, it's her turn to help them out just as they have done with her, she said. 
When she goes grocery shopping, she doesn't just pick up for her kids, she also gets a little extra for her parents. This summer has been even tougher. During the winter storm in February, Leaiandra was left with a very high electric bill due to a malfunction in her electricity she wasn't aware of. Her electric bill was more than $1,000. As a single mom on a budget, she couldn't pay everything immediately and has been paying in installments. 
With her children at home this summer, she has been concerned about paying her higher utility bills and ensuring her kids and parents have food on the table. To help stretch her budget, she always looks for sales and cheaper grocery products.
"The food expense, it is going high, but we always hit the clearance," Leiandra said.
As working families like Leiandra's struggle to put food on the table, for the first time, the Food Bank is offering a new food program in Bell County for children. This summer the Food Bank obtained a grant from Feeding America, the nationwide network of food banks, via Morgan Stanley to expand our BackPack program in Bell County. 
BackPack is designed to meet weekend meal needs for children in low-income families. At the end of each week, participating children receive bags of healthy, nutritious, non-perishable meals that they take home with them and eat during the weekend. 
We partnered with Churches Touching Lives for Christ (CTLC) and the Temple Independent School District to help implement the program in Bell County. Our partners helped identify and inform individuals about the program. CTLC was instrumental in ensuring the BackPacks were ready for distribution by storing and packing all the food items. With help from volunteers, families like Leiandra's could pick up BackPacks from distribution sites each Friday during the summer.
Even as the grant ends in September, our goal is to learn and collect feedback from recipients in order to create a model that can be sustained and be expanded past the grant period. 
As for Leiandra and her children, they are very grateful for the BackPacks they have received. 
"That helps a lot, that really does. The food, the milk, and the snacks, the fruits, it helps each and every day," Leiandra said. 
Thanks to the Food Bank, Leiandra's children have access to the nourishing meals they need to enjoy a happy summer filled with lots of swimming, playing basketball and staying active outdoors.
"To make a smile on their face and that they're ready to eat. It does, every little thing that they get, it counts for them, they're happy," she said.