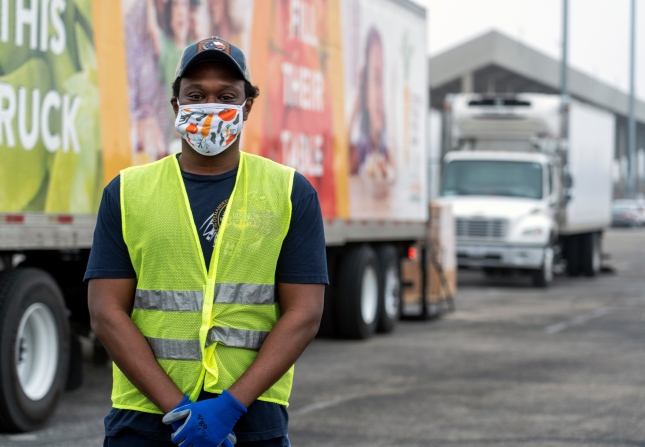 Volunteers are the heart of the Food Bank. From helping make kids' meals in the kitchen to preparing food for distribution, without our amazing volunteers, our mission to fight hunger wouldn't be possible. This month is Volunteer Appreciation Month and we couldn't be more thankful for our volunteers. During April, we will be highlighting several volunteers who have gone above and beyond to make a difference.  
During his 20 years of service in the Navy, Allen got a taste of the world as he traveled from place to place. When he retired three years ago, he was ready to continue his adventures with the intention of traveling to 50 countries by age 50. 
With only 10 months of traveling after his retirement—from South America to Eastern Europe—the pandemic put his plans on hold. It was time for him to find a permanent place to live.
Even after getting to see 27 countries, Allen decided to settle down in Austin after only visiting for a few weeks. The city had everything he needed, including ways for him to give back…something he had always done from volunteering at beach clean ups in Hawaii to Japan.
Allen set foot inside the Central Texas Food Bank for the first time when he joined his friend to volunteer in our warehouse. While he enjoyed helping us prepare food for distribution, it didn't compare to volunteering at our Mobile Food Pantries. Despite the physical work, Allen always prefers to be loading the boxes of food in the vehicles to other assignments
"I like the Mobile Pantries better than the warehouse, because you actually get to interact and see and experience all of the people that we are supporting in our community, so that's why I enjoy the Mobile Pantries more," Allen said.
His travels have spurred his passion to fight hunger, especially after seeing food insecurity first hand. Allen knows that the work he does makes a great difference, especially during the pandemic when so many are struggling to meet their basic needs. 
"I travelled the world so I have a larger perspective of so many communities, countries, people that are starving or less fortunate than most…compassion goes a long way like helping out people that are in need. I don't do it to feel good about myself, I do it because it feels right," Allen said.
For more than a year now, Allen has been a regular volunteer donating more than 273 hours across all of our volunteer opportunities and more than 167 hours at our Mobile Food Pantries. 
"Allen is always hardworking, dependable, and cheerful at our Mobile Pantry distributions. He comes to our distributions fully motivated and ready to work. His unselfish effort to bring cheer to others and help ensure first-time volunteers feel welcome and ready for their volunteer shift is truly remarkable. I often notice that I myself feel more energized after speaking with Allen. It has been a pleasure to work alongside Allen, and it is clear that he has the heart for serving the community," Anchal Saxena, Food Bank distributions programs specialist, said.
Helping feed families in need is just one of Allen's passions. His other passion is helping pups. Allen volunteers at Addicus' Legacy Dog Rescue where he fosters dogs until they're ready to go to their forever home.  
Allen, you are incredible. Thank you for helping us make your new home a better place. We're so grateful for your incredible dedication to help others. 
"A lot of people may have never volunteered before, but once you experience it and see what a difference you make, it will want you to volunteer more often," Allen said.