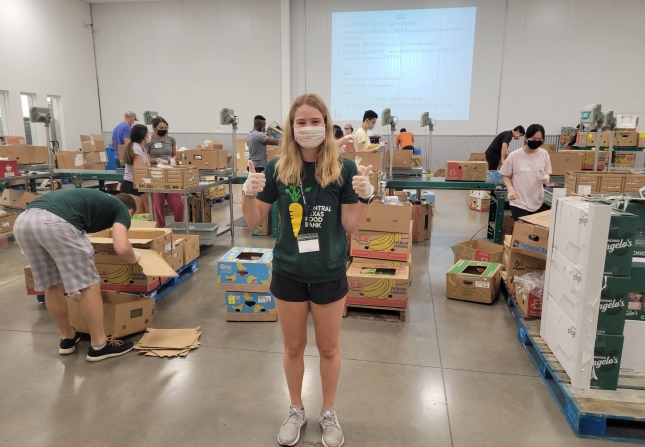 Abby keeps herself busy. After graduating from college, she was excited to move from California to Austin to join the AmeriCorps program, Literacy First, to tutor kids in reading. What she didn't anticipate was for the program to be put on hold due to the pandemic. With the extra time, she couldn't sit still. 
A Saturday warehouse volunteer shift prior to the pandemic had left a lasting impact on her. The pandemic wouldn't stop her from giving back, so she signed up to volunteer at the Food Bank in March of 2020. A single three-hour shift turned into giving back for more than a year and donating more than 677 hours in Product Recovery and more than 786 hours across all of our volunteer opportunities.
"When the schools closed, I wanted to continue doing service in a meaningful way and that was one of the opportunities that I knew of in Austin. And then I just started volunteering in March and have continued ever since then," Abby said.
With the pandemic, coming back to volunteer in our warehouse looked very different from the first time Abby had volunteered. The number of volunteers per shift had been decreased and social distancing measures were put in place. With all the changes, Abby felt safe to volunteer and to keep coming back.
"Volunteering in PR has been really great throughout all of the pandemic; first and foremost it's been safe. I've always felt safe going in there, keeping conscience of distance, keeping conscience of everyone wearing their masks and it's also just great to come together with a lot of people who want to help make a difference in our community, especially right now with COVID," she said.
As someone who worked with children, she knows the importance of having access to nutritious food. Abby wanted to do more for her community. After only a few months of volunteering, she decided to become a Volunteer Leader to help support our staff and other volunteers.
"It is wonderful to have Abby in our Volunteer Leader program. She believes in our mission and is always willing to help no matter the task. We are always glad to see Abby when she comes in to volunteer," Gabe Ornelas, product recovery manager, said.
Though Abby's AmeriCorps program has started again, Abby continues to volunteer weekly and provide support in the evening. And she is always ready to jump in when she is needed. 
After the winter storm, Abby was part of a special volunteer shift to help prepare food for the increased demand the Food Bank was anticipating. Though the shift was five hours long, she was excited to help. Other times she is on the front lines at our Mobile Food Pantry distributions.
As a new Austin resident, Abby is grateful for the opportunity to meet like-minded individuals and to socialize with others, which has been difficult during the pandemic. 
Abby, we are so grateful to have you on our Product Recovery team. Thank you for choosing to spend your time helping us feed families in need and helping lead our volunteers. You are incredible!