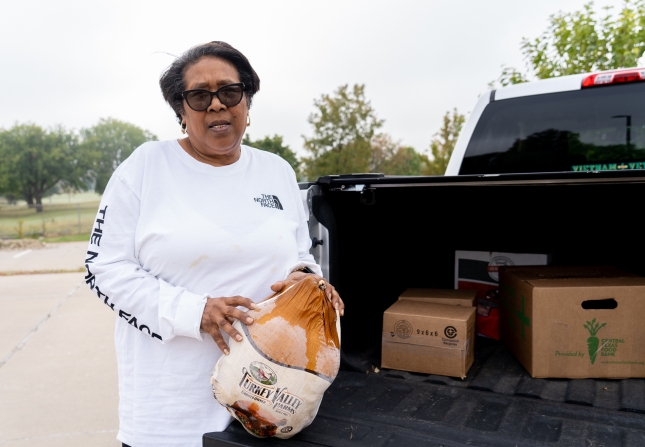 It was about a year ago when Linda and Billy started visiting their local church's food pantry for assistance with their grocery bill. The two are retired Army veterans—Linda served 3 years as a radio operator and Billy served 12 years as an engineer. After retiring from the Army, Billy worked for several years at the VA in Waco, which is how the two ended up living there.
With Billy's family in Oklahoma and Linda's in Virginia, the two are planning a quiet Thanksgiving dinner at home alone this year. "I know we won't travel a long distance," Linda says. "We just came back from Virginia to visit my daughter." Linda's daughter is a registered nurse in Charlottesville. "She's in orthopedics," Linda shares proudly. "She says it's busy all the time." They have plans to visit Billy's family in Oklahoma later this year and although Linda continues to drive them on these longer road trips, she shares that it's getting harder to do as she gets older. "I'm only 67, but it's getting rough on me," she says. "I don't know how many more trips I can endure with traffic being the way that it is now."
"I've been [in Waco] since 2013," Linda explains. "It used to be a basic two-lane town, but now everything is three and four lanes. I think it's getting harder for seniors to drive. It's so confusing. The roads are constantly changing and it makes a difference to seniors when things don't stay the same." Because of this, Linda and Billy keep their day-to-day commutes short, not going out farther than a ten-mile radius if they can help it. After gas prices went up earlier this year, this become more of a need.
Most recently, they felt the impact from rising utilities and grocery costs. "Everything is going up $3, $4, or $5. But then when you put $3, $4, $5 on every other bill that you get, then it starts to hit the budget," Linda shares. Visiting her church's food pantry and the Food Bank's mobile distribution at the VA helps offset some of the increasing expenses. But Linda visits her church's food pantry as a volunteer as well. "I enjoy meeting people and it's part of the church work. I like the exercise," Linda laughs.
This Thanksgiving holiday, the Food Bank is proud to support veteran families like Linda and Billy who have sacrificed so much for our country. Your gift today can put a meal on a neighbor's Thanksgiving table this month. Thanks to the generosity of the Beaumont Foundation, your donation is doubled, which means every $1 creates 8 holiday meals for those in need. Give today.