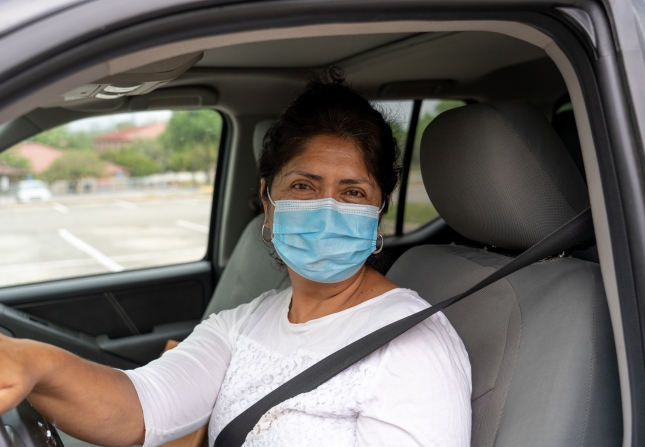 Like many Central Texans, Juana found her ability to work severely impacted by the pandemic. While her husband's work remained steady, Juana's work cleaning homes took a hit with social distancing guidelines, particularly since a number of homes she serves are for seniors. "The pandemic was something that impacted all of us," Juana shares. "Some folks, even though they continue to work, still don't earn enough to cover necessary expenses, like food."
Fortunately, her education is something that Juana has been able to continue in spite of all the turbulent changes COVID-19 brought about. A student at Austin Community College, Juana is working to obtain her GED through the online classes they offer and afterwards she hopes to continue her studies. "I always put it on pause because of my children, because they come first," Juana says. "I wanted to take advantage now that they're a bit older and the fact that I can do it online." A mom to two children, a fourteen-year-old and a nine-year-old, she hopes to set a positive example for them.
Her own mother leaves an impact in Juana's life as well, through her talent and passion for gardening. While Juana has been a student at ACC, she's been able to take advantage of their floral design program. "I like flowers," she shares. "In fact, I think it comes from my mom who has a beautiful garden in Mexico. From there I developed a love for plants and nature, but in particular, flowers." When the opportunity arose for her to take some related classes, she didn't hesitate. She enjoys growing hydrangeas, Gerber daisies, eucalyptus, wildflowers and dusty miller leaves in her own home garden. While she isn't entirely sure what awaits her, she hopes to find a way to make her passion for flowers work for her in the future. In the meantime, she enjoys making a floral arrangement out of freshly cut flowers from her garden for the occasional birthday or special occasion.
She remains grateful to those who continue to support the Food Bank while she works to further her education and opportunities. "With everything that's happened recently, we're realizing that we all need support. Thank you to everyone that makes programs like this possible."