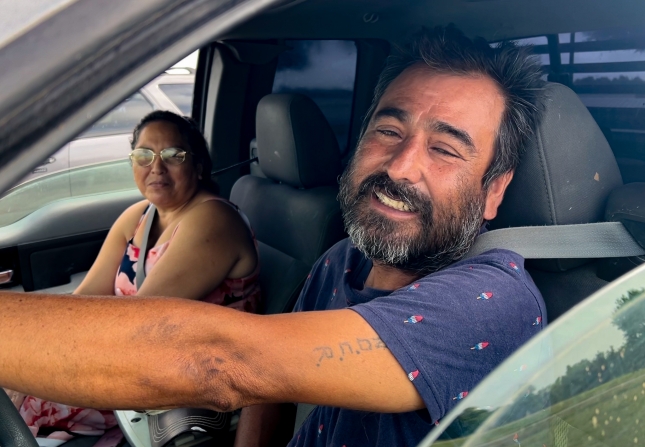 Only recently did Oscar and his wife begin visiting the Food Bank's mobile pantry distributions. It's been two months since Oscar has been able to work. He's a painter with decades of experience, and yet in the current economy he's had a hard time at finding any work lately. "In painting, it's up and it's down. Sometimes, when there is work, you have to work day and night," Oscar explains. "And when there's not, you just do the best you can." Oscar lives with his wife and their four children, the eldest of whom is a painter, like his father.
With the recent surge in costs at grocery stores and the gas pump, their family's strained budget has taken a serious hit. "I've had to sell things that we have in the house in order to afford gas and household items," Oscar says. After selling off some of his own work tools to keep up with the impact on expenses, he continues to search for work in hopes of improving his family's financial situation. Working in the industry for several years now, Oscar has a network of other workers he connects with in his search for work. He continues to do what he can to land a job, but hasn't been able to find anything steady for weeks.
While times are difficult for Oscar's family, they are no strangers to hardship. This July will mark five years since the loss of one of their sons. "He's still with us," Oscar says. After a terrible complication with a surgery, their 21-year-old son passed away in his sleep. "He was so young and so handsome," he says. "You can't forget the loss. It stays with you." Oscar remains grateful to have his surviving sons and daughters living under his roof. "You learn to live with the pain," his wife adds. "Because you don't have another choice."
This weekend, the Central Texas Food Bank is thinking of all dads, dads like Oscar who want nothing more than to be able to provide for their families, dads who've lost a child yet continue to carry on. This summer, your matched donation can help feed families like Oscar's.