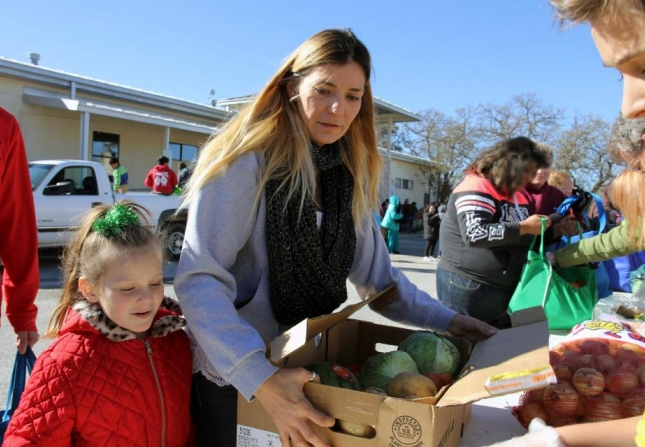 When Jennifer learned about a turkey distribution happening about an hour away from where her family lives, she didn't hesitate to make the drive. After getting lost, she couldn't give up. Getting to the distribution would truly make a difference during the holidays.
It's been a difficult year for her family. When Jennifer's 5-year-old daughter began having problems at school, Jennifer quit her job to home school her daughter until she was able to find and switch her to another school.
Even though the next closest school to the family would be 45 minutes away and the family would need to pay a very nominal tuition, Jennifer put her daughter's education first and enrolled her there.
"The school that I got, we had to be spending all of our money on tuition just to get her in. It's a 45 minute trip, and I have a little truck, so I'm spending about $60 a week, Monday through Friday, just to take her back and forth from school. So, that's really bad right now," Jennifer said.
With only her boyfriend's income to support the family the tuition and the money spent on gas going to and from school, have made it difficult to make ends meet.
After falling behind on their electric bill, the family had planned to pay off the balance when Jennifer's husband received his pay check, which was on the bill's last due date. Unfortunately, the family had their electricity cut off early— one day before their due date.
Since they live in a remote area, it was even more expensive to get the electricity turned back on. With bills to catch up on and the tuition for her daughter, food isn't always a priority.
"Food is an issue because we have to eat a lot less, and we can't go to too many places because her school is more important. So, we're mainly home every weekend now," Jennifer said. "Every once in a while we will try to save up as much as we can and take her out, probably once a month right now."
Even though Jennifer spent the rest of her money on gas driving out to the Food Bank's Mobile Food Pantry distribution in Fredicksburg to get a turkey, she couldn't be more grateful to be able to receive the food she needed to give her family a special Christmas meal.
With their Christmas meal taken care of, her boyfriend will be working overtime to be able to afford some presents for their daughter and make the holiday even more special.
"Thanks so much, because now I get a good Christmas and hopefully some food for the next week until we get paid again," she said. "I really appreciate it. It really helps out a lot.  This year was really hard, so it's nice to know that there are still other people helping."
The holidays can be tough for hard-working families like Jennifer's. With your help, we can ensure everyone is able to share a holiday meal with the friends and family. Thanks to some very generous matching donors, every dollar donated from now through December 31st will help us provide 8 meals to families struggling to make ends meet. Give today and provide hope for the holidays!