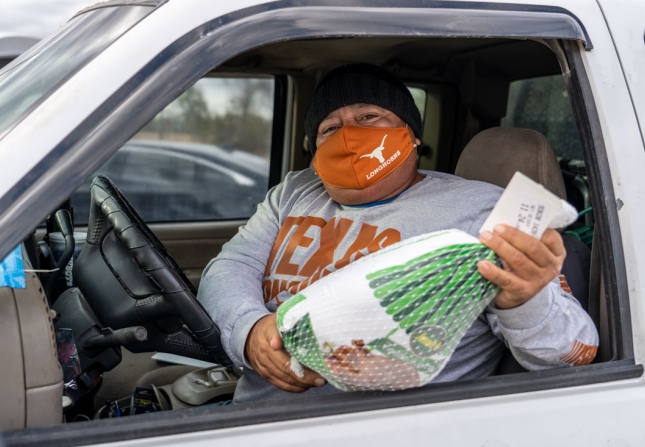 Benjamin and his wife are recent residents of Webberville, Texas, a small town located east outside of Austin. Their life there is much more peaceful and safer than where they were living in Austin. 

When the duplex they were renting was sold, the couple couldn't afford to pay the high rent prices in Austin. They left. While rent is still a bit cheaper in Webberville than in Austin, it was still a $500 increase than what they were formerly paying.

It has been tough for the couple to make ends meet. Years ago, Benjamin suffered an injury when he fell off a roof. Now, he can't carry the heavy building materials required to work with a company. Since then, Benjamin has been self-employed. However, the pandemic has affected his work, as families don't want strangers around their house.  

Money is tight for the couple. Benjamin recently found out that he has diabetes, but he can't afford his medication. For now, Benjamin is waiting to hear back from the health coverage program he applied for to help cover his medical expenses.

"I'm diabetic and I can't afford my prescriptions right now... I was needing to get refills. I take like 5 pills and then the insulin so it's quite a bit. I just found out I was diabetic, so it's all new to me too. I wasn't expecting it," Benjamin said.

Without his income, his wife is taking on the full responsibility of paying their expenses and keeping a roof over their heads. But it's not just for the two of them. 

Their daughter is experiencing homelessness. While she gets back on her feet, Benjamin and his wife are helping take care of their 5 and 7-year-old grandkids. To help put food on the table, Benjamin turned to the Food Bank.

At the Mobile Pantry distribution, Benjamin takes home a mix of protein, produce and pantry staples.
 
"We always get the greens so that's good and whatever meats they give us. That's appreciated it," he said.

Though Benjamin doesn't want to plan for the holidays due to his family's financial situation, things changed when he was surprised with a turkey at one of the Food Bank's distributions. Thanks to the Food Bank, he's excited to share a holiday turkey dinner with his family.

"I'm just thankful for people like y'all that are out here helping us that are struggling. That means a lot. We really appreciate y'all," Benjamin said.