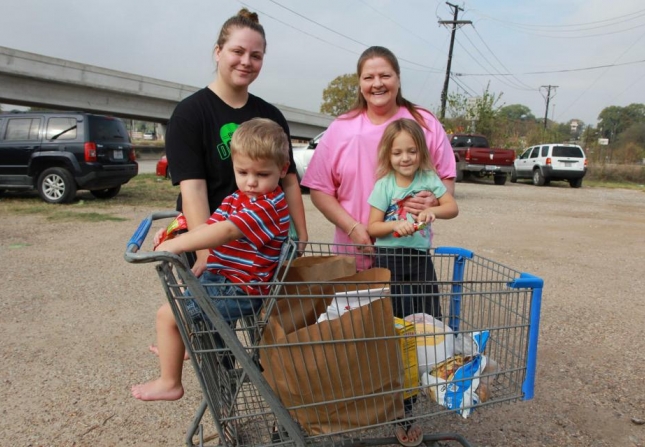 One in six Central Texans will struggle to provide enough food for their families this Thanksgiving. We're excited to begin our holiday turkey distributions in the next few weeks, so that families in need are able to share a special meal with their loved ones this holiday season.
It truly makes a difference for families facing hunger. Last year, we met Wanda at our Partner Agency, Love of Christ in Bell County a few weeks before Thanksgiving. She wasn't alone. Her granddaughter, Shelby, and great-grandbabies Harley and Bryson, were accompanying Wanda during the food distribution.
Shelby's family fell on hard times after her husband's work hours were cut. As a service technician, her husband is on call 24 hours a day, seven days a week. With his work schedule, he had very little time to spend with his family or to even sleep. It took a toll on him.
When he asked for a week off from the service calls to spend time with his family, his employer reprimanded him by cutting three weeks out of each month. Their household income drastically fell and the family began falling behind on their expenses.
Having a roof over their family's head took priority, even if it meant taking a cash advance loan to pay their rent. Food took a back seat.
"We've just been struggling recently.  My husband's hours were cut. Everything has just been kind of behind, and groceries are kind of a last priority compared to lights and water and all that good stuff.  So, we decided to come with my grandmother to try [the pantry] out and see if it would help," Shelby said. 
Keeping the lights on wasn't their only concern. Shelby's son has ear problems that require constant treatments. The family is unable to afford medical insurance and it has been tough for them to get the treatment they need for their son, especially with each appointment costing them anywhere from $70 to $200 out of pocket.
"Most of the time we have to save up for [the appointments]… other times we just have to cancel.  We have to cancel a lot, because that's a lot to come up with.  Even his tubes alone… to put a fresh set in, that he needs, is going to be over $10,000, and they want half up front," Shelby said.
With a tight budget and the holidays around the corner, Shelby decided to join her grandma, Wanda, at their local pantry for the first time.
Wanda would be getting a turkey and everything else she needed to for a complete Thanksgiving meal for her entire family. It was going to be an extra special Thanksgiving.
For the first time in years, five generations of their family would be coming together to share a meal.
"It means a lot. It's a traditional thing. Tradition and family is just memories being made. It is going to be a great one because we have five generations. Five generations are going to be there with my mom, me, my daughter, [Shelby], and her kids. It is going to be great. It is going to be a great one," Wanda said.
Wanda and Shelby's family will have a memorable Thanksgiving thanks to our Food Bank supporters. As the holidays approach, we need your help to provide hope for the holidays. No one should go hungry, especially during the holidays.
Thanks to some very generous matching donors, every dollar donated from now through December 31st will help us provide 8 meals to families like Wanda and Shelby's. Give today and provide hope for the holidays!