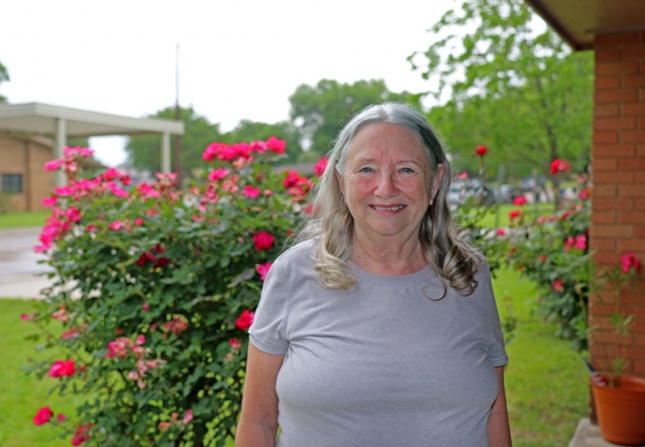 Seventy-year-old Lola loves to work in her yard, but it's hard for her to get down on the ground to do any kind of yard work. However, on days with nice weather, she'll try her best to tend her garden.
Lola suffers from a bad back, vertigo and arthritis. Her health issues make it hard for her to get around or to lift anything heavy, including carrying pots and pans. She can't cook for herself anymore, which she used to love to do.  
At home, her youngest daughter, Bridgette, does the cooking and takes care of her day-to-day needs. Occasionally, her daughter lets her help in the kitchen.
Bridgette helps her with more than just her daily activities. Since Lola lives on a fixed income, Bridgette helps pay part of her rent. Even with her daughter's help and her SNAP benefits, Lola still struggles to pay her expenses and keep her pantry full.
COVID-19 has made it even more difficult for older adults like Lola to safely get the nourishing food they need to stay healthy.
Once a month, Lola stops by her apartment's office to pick up a box of food. She is enrolled in the Food Bank's Healthy Options for Program for the Elderly (HOPE). Each month, low-income seniors (55 and older) participating in the program can pick up a box of nearly 30 pounds of groceries. The exact contents of the box vary, but it always contains canned fish or meat, milk, cereal, canned fruits and vegetables, beans, pasta, and pasta sauce.
Lola is grateful for the healthy options available in the box. With her strict diet, she is able to eat lean protein and get her fruit and vegetable servings as well.
"It helps out a lot. I get food stamps too, but it's still kind of hard. Groceries are so high. It's ridiculous," Lola said.
The senior-housing apartment complex Lola lives in is one of 27 distribution sites, which include a combination of pantry partners, low-income senior housing complexes and recreation centers. Since older adults like Lola are at greater risk of contracting COVID-19, having the distribution location at housing complexes helps ensure the safety of our most vulnerable neighbors.
Since the pandemic began, even more of Lola's neighbors have joined the program. In March, 3,860 seniors received HOPE boxes across our 21-county service territory compared to 3,764 in February.
We're proud to help keep our older neighbors safe during the pandemic through senior-only food distribution programs like HOPE.
For seniors like Lola, a HOPE box means fewer risky trips to the grocery store and nourishing meals at home. 
"I'd like to thank [donors] and I appreciate what they're doing. I really enjoy it a lot," Lola said.