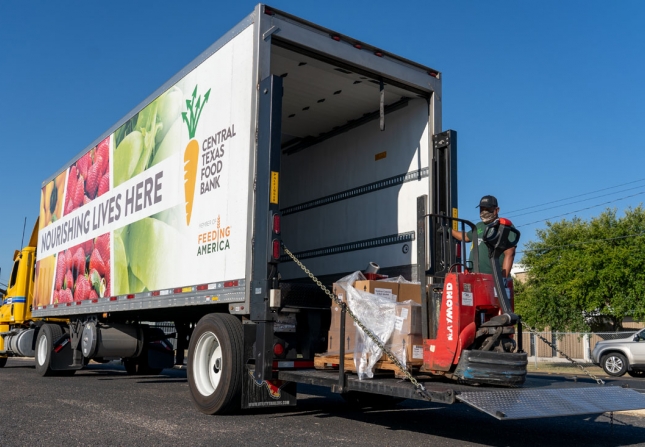 From our drivers picking up and distributing food across 21 Central Texas counties to our kitchen staff preparing weekly meal packs for kids, our staff has been working diligently to help meet the increased demand caused by COVID-19. 

From May through July, we set all-time records of food distributed. In September alone, we distributed more than 7 million pounds of food. During our 2020 fiscal year, we distributed more than 64 million pounds of food! That's 14 million more than last year.

To help meet the skyrocketing need, we have implemented drive-thru mass distributions in locations where we can serve hundreds of families in need. Since April, we have hosted 46 mass distributions serving 50,166 households in the Austin area, Bell County and McLennan County. Six distributions are scheduled for October and we plan to continue hosting mass distributions through the end of the year.

As we shifted our distribution model to drive-thru, our network of more than 250 pantry partners followed suit. While many had to close their doors to modify their operations, we're excited to have all but one pantry partner up and running. This makes it easier for families to go to their local pantry to receive food.

In addition to supporting families through our Mobile Pantries and pantry partners, every summer we launch our kids summer meal distribution program. This summer was different. With safety taking priority, we reduced our kitchen volunteer shifts and prepared meal packs, which included seven breakfasts and seven lunches for the whole week. Instead of parents taking their kids to a distribution site each day, parents could pick up a single meal pack once a week. This summer we distributed 83,118 meals to kids in need!

The success of our summer meals distribution model led us to implement it for our After School meals program. Starting this month, parents can pick up a meal pack that contains seven snacks, seven dinners and a BackPack filled with two nonperishable breakfasts and lunches for the weekend. 

With millions of pounds of food arriving and leaving through our doors, we could not be more proud of our warehouse team. We close each fiscal year in September with a weeklong inventory where food doesn't enter or leave our warehouse. With so many families currently turning to the Food Bank, this year our staff conducted the inventory in just three days to reduce the impact on our community. And they did it with zero issues from the auditor. 

While our warehouse doors were closed during inventory, instead of rejecting food, our food sourcing and transportation teams diverted around 120,000 pounds of food directly to our pantry partners. 

Though the pandemic has caused so many changes to our operations, we couldn't put food into the hands of families in need without the overwhelming support of our generous neighbors. Thanks to you, families don't have to worry about food during this difficult time. 

As we head into the holiday season, we know that things will be different for many Central Texans struggling to provide for their families. But with help from our community, we know we can nourish our most vulnerable neighbors.